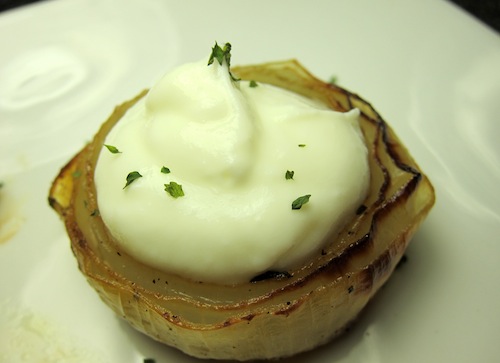 If you've never had a baked onion I hope you will give this recipe a try. It is seriously so delicious and creamy. Plus, it's a great substitute for the baked potato and has so many less calories. I know a lot of people are watching their carbs and this is a perfect side dish for any meal. So easy to make it doesn't really require a recipe! I've also made them in the microwave when I was pressed for time and they turned out perfect… just be sure to cover it.  

This recipe serves 2.
INGREDIENTS
1 large onion
a little olive oil and/or butter
salt and pepper, to taste
fat free Greek yogurt, for garnish
Parsley, for garnish
METHOD
Preheat oven to 350 degrees.
Peel onion.
Slice onion in half and place in baking dish.
Drizzle the olive oil on top, or put a little dab of butter on the top.
Sprinkle with salt and pepper.
Bake, uncovered, in the oven for 20 minutes, or until soft and golden.
Serve with a dollop of yogurt on top and garnish with fresh parsley.
Enjoy!

Print entire post