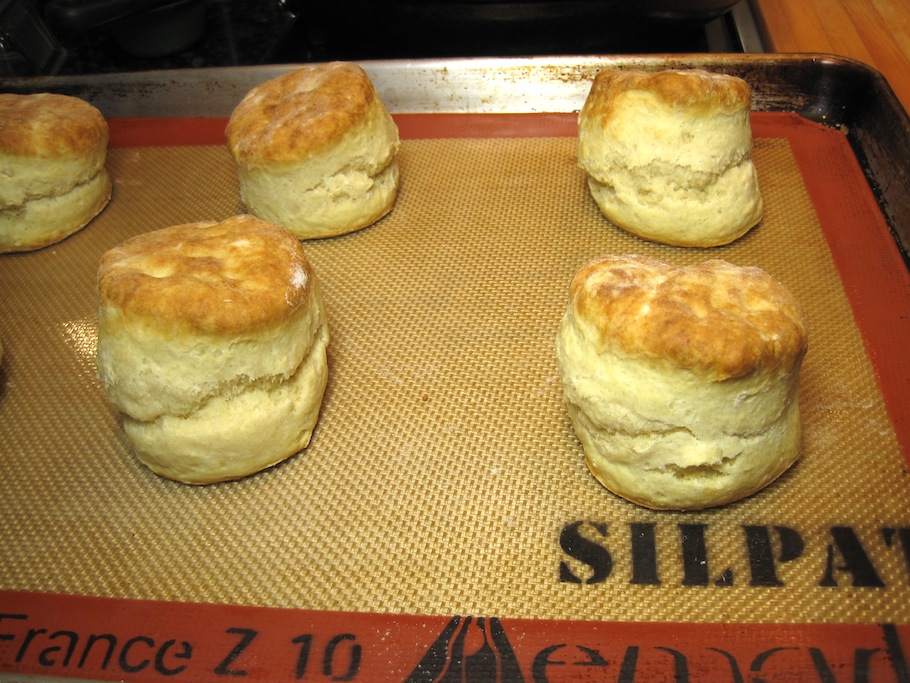 Now that I live in the South I have to make sure that my biscuits measure up! There will be no slacking in the biscuit department when you bring these to the table.  Light, fluffy and delicious, these are the best biscuits I've ever tasted!
This recipe serves 4 (or less, depending on how much you like biscuits!)
INGREDIENTS
2 cups Flour
2 tsp Baking Powder
1/2 tsp Baking Soda
3/4 tsp Salt
4 Tbsp cold Butter
1 cup buttermilk, chilled
METHOD
Preheat oven to 450 degrees.
In a large bowl combine flour, baking powder, baking soda, salt and butter.
Be sure that you're butter is cold, and working quickly with your hands, rub the butter into the dry ingredients until mixture gets crumbly.
Add the chilled buttermilk and stir JUST UNTIL the dough comes together.
The dough will be wet.
Flour a work surface and turn the dough out.
Fold the dough gently about 5 times.
Press dough evenly, making it about 1-inch thick.
Cut biscuits with whatever shape cutter you want to use.
I typically use a 2-inch cutter, but sometimes I like to make extra large biscuits and other times I want mini biscuits.
Continue the process until all the dough has been used.
Place biscuits on baking sheet a few inches apart.
Bake for about 12 to 15 minutes or until biscuits are lightly golden.
Best eaten right away topped with butter & jam.
Enjoy!

Print entire post