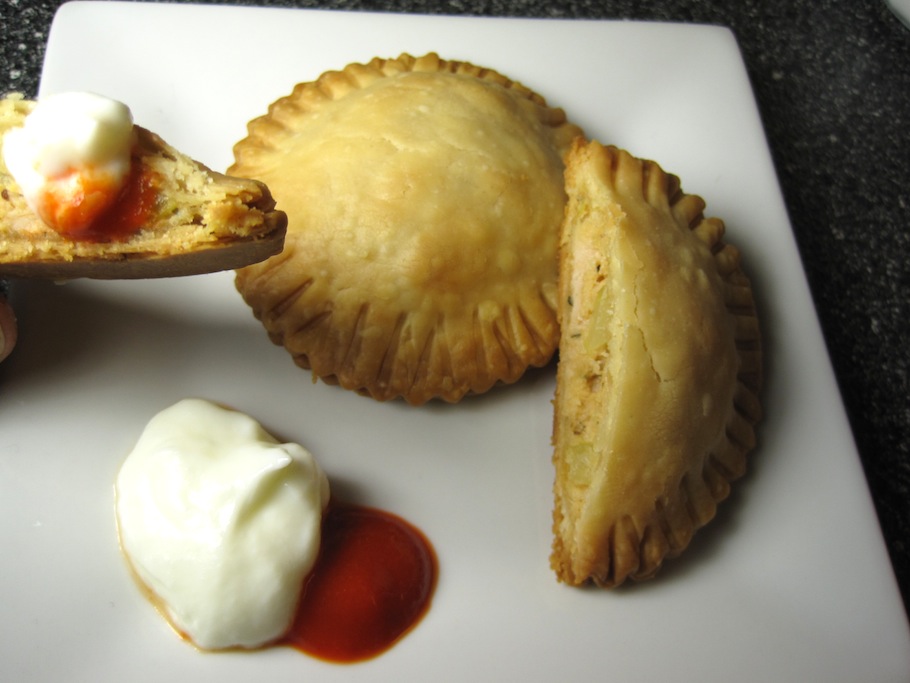 We were hungry and wanted something quick and easy for lunch. I prepared some tuna fish salad and added some smoked Paprika to the mix. It really gave it an incredible flavor. Then instead of just making a sandwich, I used ready made pie crust to whip up these tasty empanadas.
I love to eat mine with a dollop of fat free plain yogurt and Sriracha Sauce. Yum!!
This recipe serves 2.
INGREDIENTS
1 can White Albacore Tuna, packed in water – drained
2 stalks celery, diced fine
1 small onion, diced fine
2 heaping Tbsp mayonnaise
sprinkle of Smoked Paprika
sprinkle of Celery Seed
Fresh Ground Black Pepper, to taste
1 ready made Pie Crust
METHOD
Preheat oven to 350 degrees.
Drain the tuna fish thoroughly and place in a medium bowl.
Stir in the celery, onion, mayonnaise, smoked paprika, celery seed, and fresh ground black pepper.
Unroll the pie crust and cut into rounds, re-rolling the leftover and using all the pie crust.
Place a small amount of the tuna in the center of a round and top with another round.
Press edges together with your fingers and seal by using a fork to press all around.
Place on a non-stick baking pan and spray a little olive oil on the top of each round.
Bake for about 12 minutes, or until light golden.
Enjoy!

Print entire post