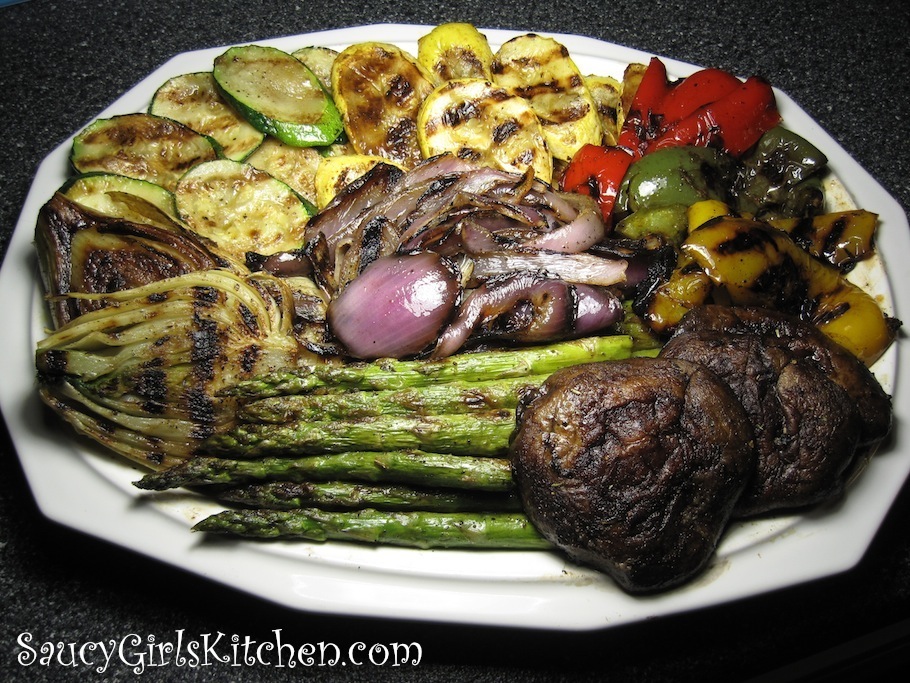 It's the first of the year and it seems like everyone is eating healthier. I know I am, 'cause I'm trying to make up for all the sweets and rich food I've been eating since Thanksgiving.
I absolutely love grilling vegetables. There's almost something therapeutic about it for me. Plus, the flavors of the veggies are just incredible after they've been grilled.  I especially love the grilled fennel.
It's great to serve the veggies just as they are or top them with some toasted pine nuts and feta cheese.  I grilled lots of vegetables with the plan of using them over the next few days in many dishes.
One of my favorite things to make is a chopped salad using the grilled vegetables, especially tasty with the asparagus and fennel. Cut the veggies into bite size pieces. To them add some cut Romaine Lettuce. Toss with a Balsamic Vinaigrette and top with some croutons and shaved Parmesan Reggiano.
Last night, I made 2 pizzas for dinner using the vegetables. One pizza had pesto on it with grilled squash on top and some onions and peppers. I topped it with a little Truffle Cheese (from Trader Joe's).
The other pizza had red sauce on it, along with some sliced Portabello mushrooms, onions, bell peppers and fresh mozzarella.
We ate them in front of the fireplace… which made it even more delicious and enjoyable!
INGREDIENTS
Olive oil
Italian Seasoning
Salt & Pepper
Assorted Veggies – such as:
Zucchini
Yellow Squash
Bell Peppers
Red Onion
Asparagus
Fennel
Mushrooms
METHOD
Pour some olive oil into a small bowl.
Add some Italian Seasoning, salt and pepper.
Mix together and set aside.
Prep all your veggies (wash, cut, etc).
Preheat your grill.
Brush the veggies lightly with the olive oil mixture and place on hot grill.
Grill until tender.
Enjoy!

Print entire post