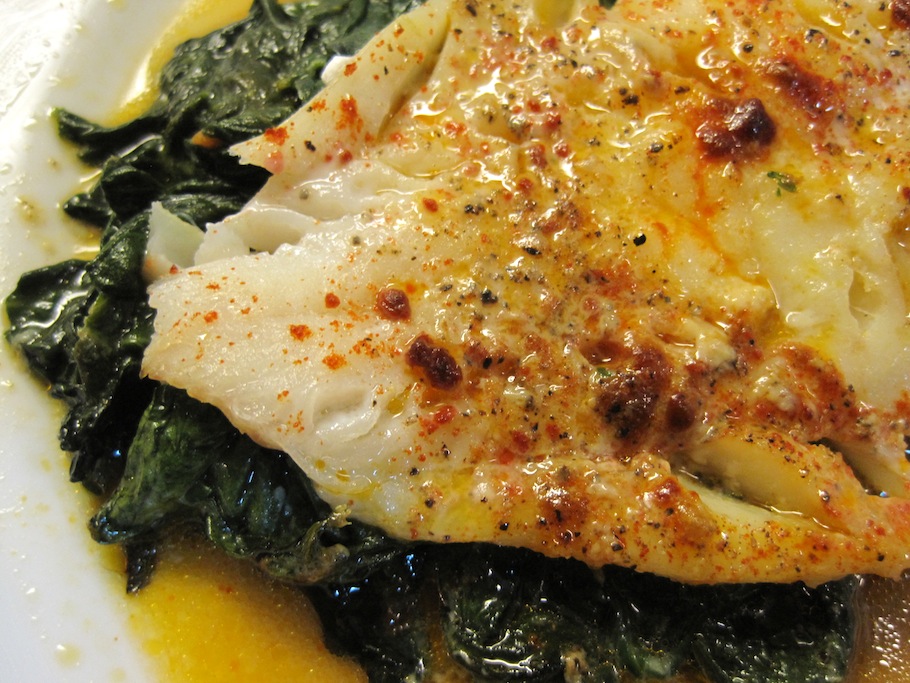 Grouper is a mild white fish that is easily available. I have also bought the packaged frozen Grouper and thought the flavor and texture was perfect.
This recipes serves 2.
INGREDIENTS
Grouper – 4 pieces
Smoked Paprika
Italian Seasoning
2 Tbsp Olive oil
4 Tbsp Butter
1 shallot, finely diced
1/2 cup White Wine
1 bag of fresh Spinach
salt & pepper, to taste
Lemon Juice
METHOD
Sprinkle some smoked paprika and a small amount of Italian Seasoning on the Grouper and set aside.
Place butter and olive oil in a saute pan over medium heat.
When the pan is hot and bubbling, add the Grouper.
Saute for a few minutes on each side.
Remove fish from pan and set aside, covered with foil to keep warm.
Add the shallot and white wine to pan and simmer for a few minutes.
Add the fresh spinach and saute over medium-high heat until the spinach is limp.
Season with a little salt and pepper.
Place spinach on plates and top with fish.
Spoon sauce over fish.
Squeeze fresh lemon on top and serve immediately.

Print entire post