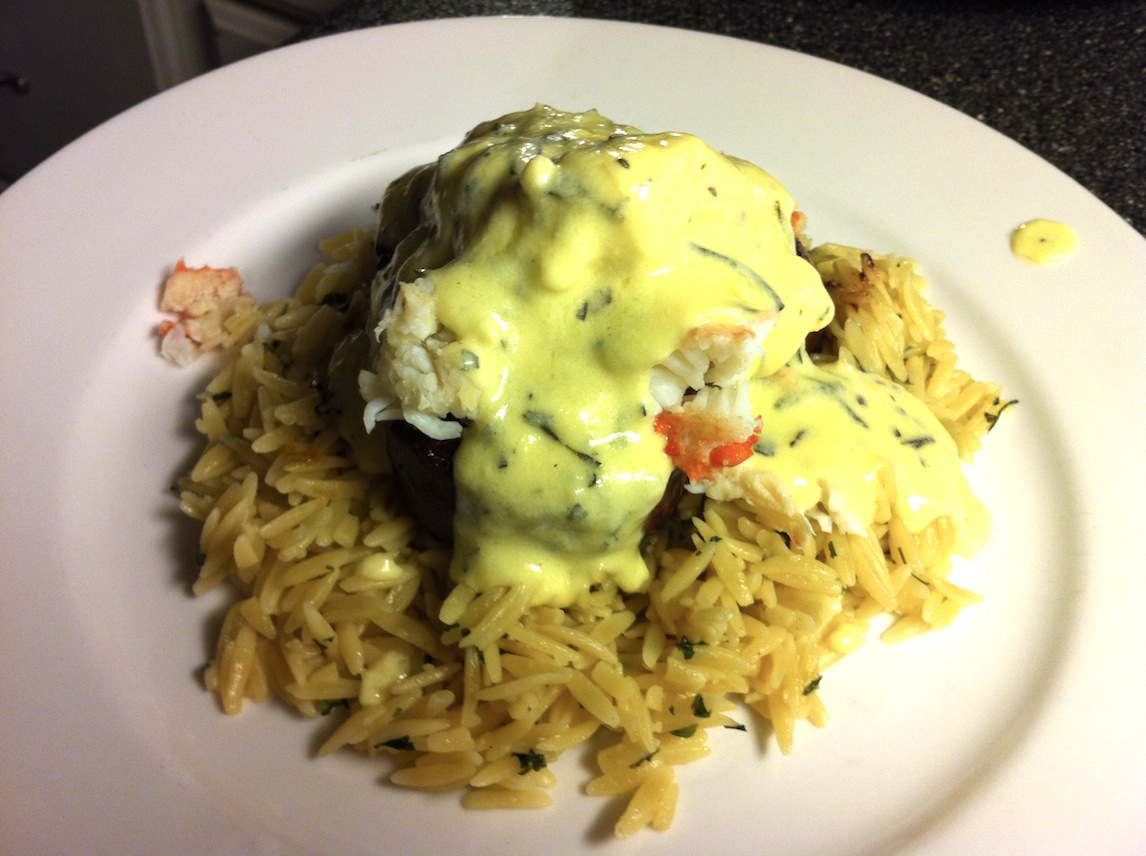 One of my favorite foods is King Crab. I especially like it on top of a perfectly grilled filet mignon, then smothered with Bernaise Sauce. This is one of the first meals I made in our new house. I didn't have any asparagus, which would typically go on top… but we didn't miss it!!
Since we had potatoes the night before I didn't want to serve potatoes again, but it would have been delicious sitting on top of mashed potatoes. Instead, I made Orzo and seasoned it with a little salt, pepper, parsley and a little butter and lemon. For those of you not familiar with Orzo, it is rice shaped pasta. It cooks in just minutes and it's a wonderful quick substitute for rice. I really love it, and just don't make it often enough!
The filet mignon was seasoned with some salt and freshly ground pepper, and grilled.
You can make the Bernaise Sauce ahead of time and just heat it up when you're ready to plate.
INGREDIENTS
2 Egg Yolks
1/2 stick Butter, cubed
juice of 1 Lemon
a little Milk or Cream, if needed
Tarragon (fresh is best)
Salt and pepper, to taste/if desired
METHOD
Have all your ingredients ready because the process of making the sauce is quick and should be seamless.
Place the 2 egg yolks in a small saucepan over low heat, whisk.
Add cubed butter and continue to whisk slowly until the butter is melted and the yolks are hot.
Whisk in the lemon juice.
I add a bit of milk or cream to thin the sauce out, if needed.
Add the tarragon, salt and pepper, to taste.
This is a basic recipe that I use, but you can do variations with this sauce. Sometimes I will add sauteed shallots, or use white wine and champagne vinegar in place of the lemon, or add a dash of Tabasco for a little kick.

Print entire post