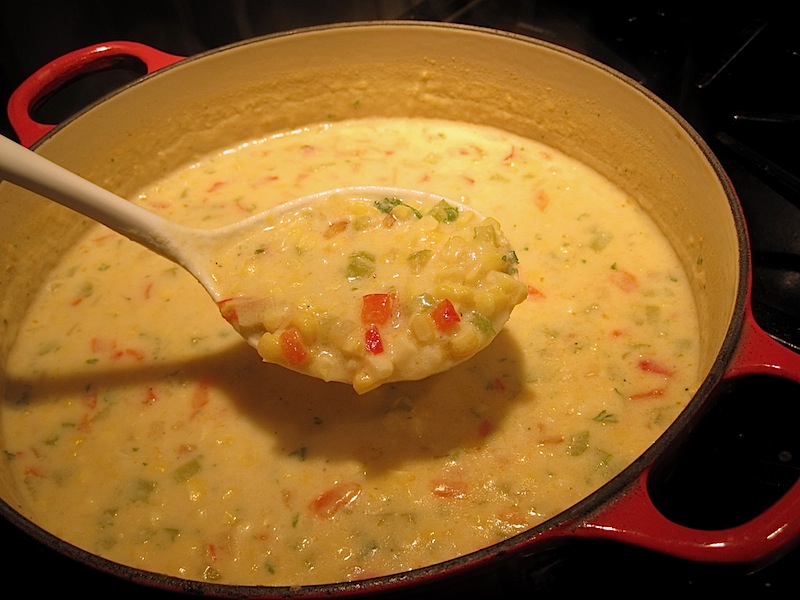 It's officially Fall and that means comfort food to me. Nothing is more comforting than a hearty soup, chowder or stew. Yummy!!
I had 5 ears of corn on the cob in the fridge that I had originally bought to make green corn tamales. I've decided to put the tamale making on hold until after we move into the new house (this weekend!).  So, when I first started shucking the corn I wasn't sure if I was just going to make a side of creamed corn, or what… but as I cut the corn off each cob I started to crave some corn chowder.  Twenty minutes later it was ready!!
INGREDIENTS
1 Tbsp Olive Oil
1 Tbsp Butter
1/2 cup White Onion, diced
1/2 large Red Bell Pepper, diced
2 Celery Stalks, diced
3 Tbsp Flour
2 cups Milk
2 cups Chicken or Vegetable Stock
2 cloves of Garlic, diced fine
5 ears of Corn, removed from the cob
1/4 cup fresh Parsley, chopped fine
Salt and Pepper, to taste
METHOD
In a large saucepan melt the butter and olive oil together.
Add the onion, bell pepper, and celery.
Saute for about 3 minutes on medium.
Sprinkle the flour on top and stir.
Add the cold milk and mix making sure there are no flour lumps.
Add the stock, garlic and corn
Continue to cook on medium, stirring often as the chowder thickens.
After about 10 minutes, turn on low and add the parsley.
Taste and season with salt and pepper, as desired.
Keep on warm until ready to serve.

Print entire post