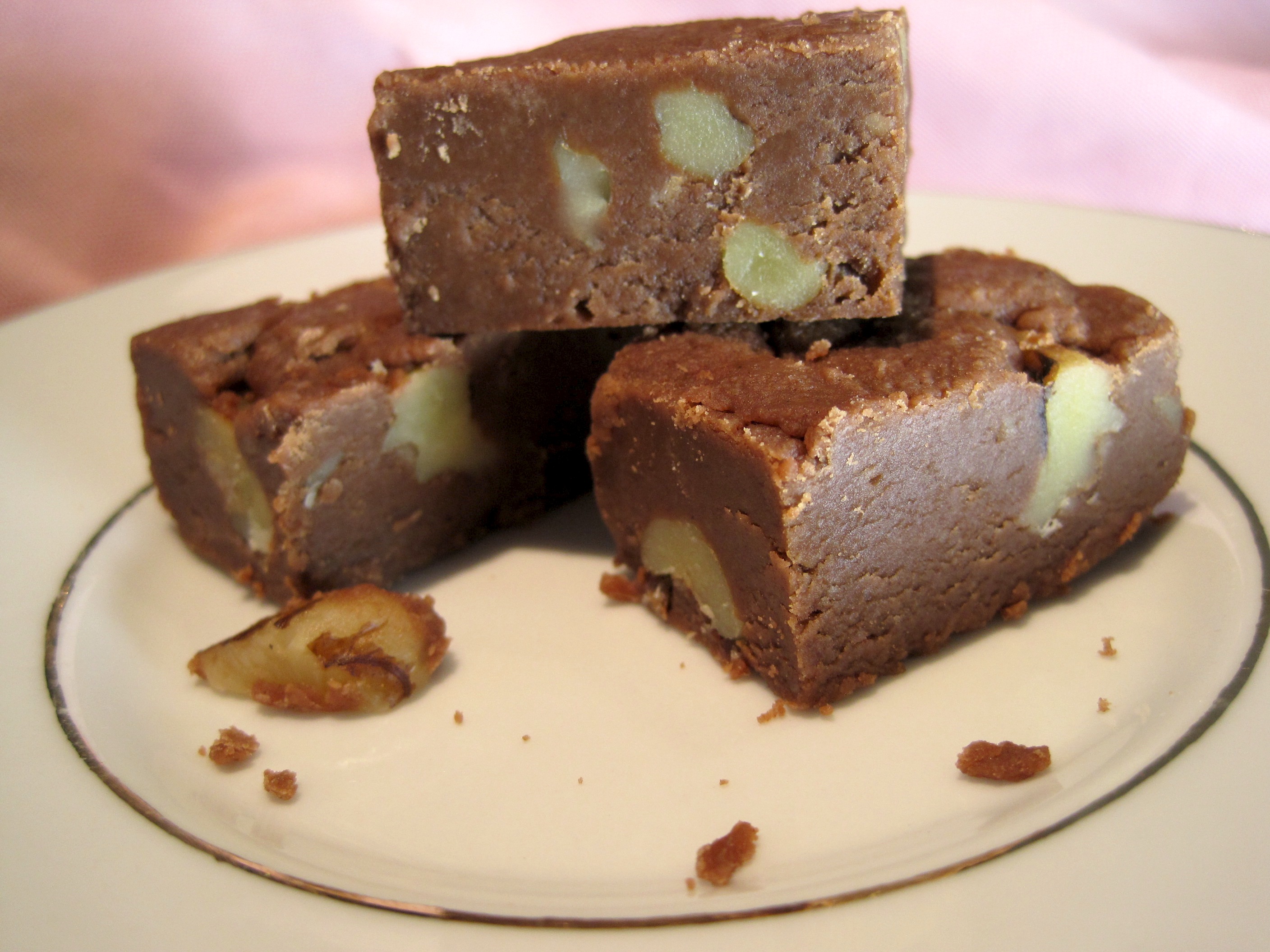 Chocolate Fudge is delicious and creamy. If you've never made fudge before you'll be surprised at how easy it is to make! There are so many different types of fudge, but this is one of my favorites… coming in right behind my Peanut Butter Fudge. 😉
INGREDIENTS
1 cup Walnuts, chopped
1 – 5 oz. can of Evaporated Milk
4 Tbsp butter
2 cups sugar
1/4 tsp salt (if your butter is salted, omit the additional salt)
1 7 oz. jar of marshmallow creme
2 cups semisweet chocolate
2 tsp pure vanilla extract
METHOD
I like to toast the nuts to bring out additional flavor.
If you want to do that, as well, just put them on a baking sheet and place in a 350 degree oven for about 5 to 10 minutes.
Keep an eye on them so they don't get burnt.
Allow to cool, then chop and set aside.
I used a 9″ x 9″ glass pan.
However, if you are using a metal pan you should line it first with some aluminum foil.
In a heavy saucepan add the evaporated milk, butter, sugar, salt and marshmallow creme.
Stir with a wooden spoon, over medium heat until the mixture comes to a boil.
Continue to stir and let the mixture boil for about 5 minutes, or until the temperature reaches 230 degrees on a candy thermometer.
Remove from heat and stir in the chocolate until melted.
Add the vanilla and nuts.
Pour into the baking dish and allow to cool at room temperature.
You can cover it, place it in the fridge and cut pieces as you want them ~ or you can cut the fudge into 1 inch pieces and store in a plastic container in the fridge.
Fudge tastes best (to me) after it has come to room temperature before eating… if you can wait!
Notes:
Remember – the better the chocolate that you use in this recipe, the better the fudge will taste!
You can substitute pecans for the walnuts.
Fudge can also be frozen and will last for several months.

Print entire post