There's a game going around the Blogging World called Seven Facts. If you get tagged by someone, there are 7 questions that you answer using previous posts from your blog. I was tagged by Laurie of Food is Love! Thank you, it was fun!!  😉
So here are my 7 answers/experiences with food blogging. You can click on the link or picture for the recipes.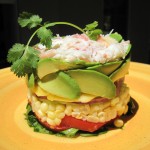 1. Most beautiful post: Crab Stack with Mango & Avocado
I really enjoyed preparing this. It was fun and I thought it turned out beautiful. It was also very enjoyable to eat!!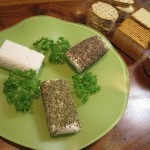 2. Most popular post: Cheese Making in my own Kitchen!
I had been wanting to make cheese for a long time and finally got around to it. It was so gratifying. I loved watching the milk turn to whey. Definitely something every foodie should do at least once. I made goat cheese that day, too… creamy and delicious.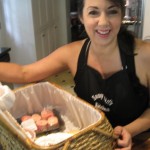 3. Most controversial post: Chopped Challenge at home!
Honestly, I was kind of at a loss for "most controversial post" so I figured I'd put the chopped challenge because it was the most controversial for me, personally. When my boyfriend (now husband), Billy, created the mystery baskets I had no idea he would put a whole beef tongue in there. I definitely wasn't expecting that and I was grossed out.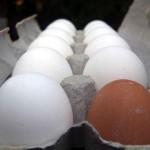 4. Most helpful post: Egg Facts – Unscrambled

I wrote the egg post because I was so confused going to the egg aisle in the grocery store and not knowing exactly what certain labels really meant. So, it was helpful for me to learn, as I wrote the post. Soon we will have our own chickens and I will have fresh eggs! Yay!!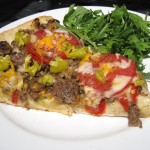 5. Post that was surprisingly successful: Philly Cheese Steak Pizza
This pizza was so darn delicious that it rightfully deserved all the attention that it got. Want to make that again really, really soon!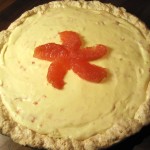 6. Post that did not get the attention it deserved: Grapefruit Pie with Coconut Meringue Crust
Ok, maybe Grapefruit Pie doesn't sound that appealing. Grapefruit usually makes one pucker, but believe me, this pie is absolutely yummy. The Coconut Meringue Crust would make delicious meringue cookies all by itself. Hmmm…. half dipped in dark chocolate (you may see this as a future post – lol).
7. Post I am most proud of: Quick & Easy Strawberry Rhubarb Pie

Another pie, but I chose this one because it was my first blog/website post. It was the beginning of my food blogging!!
Thanks so much Laurie for including me. Now I'm going to tag 6 of my favorite blogging friends! I hope you'll all check out their posts!
And Then I Ate It
Everyday Mom's Meals
The Devilish Dish
Betty's Kitchen Adventures
The Perfect Thyme
A Healthy Jalapeno

Print entire post