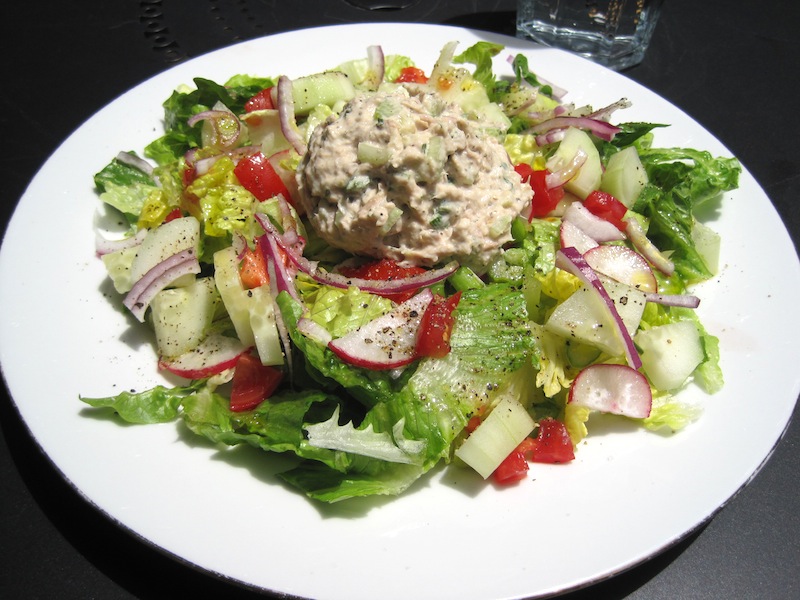 Simple, easy and delicious. Our life is hectic right now with our big move across country and this quick salad with tuna was the perfect lunch.  I don't really follow a recipe, so what I've put below is just something to loosely follow. I didn't put quantities for the green salad because it just doesn't have to be precise.
INGREDIENTS
1 large can Tuna, packed in water
1/4 cup Onion, diced fine
1 stalk of Celery, diced fine
1 Tbsp Mayonnaise
1 Tbsp Lemon Juice
Celery Salt
For The Salad:
Romaine Lettuce
Red Onion, sliced thin
Radishes, sliced thin
Cucumber, sliced and quartered
Tomato, diced
Olive Oil
White Wine Vinegar
Salt & Pepper, to taste
METHOD
Drain the liquid from the tuna and place tuna in a medium bowl.
Add chopped onion, celery, mayonnaise, lemon juice and celery salt to the tuna.
Mix well, cover and refrigerate.
Meanwhile, wash, dry, and cut your Romaine lettuce into bite size pieces.
Prepare the onion, radishes, cucumber and tomato for the salad and toss together in a large bowl.
Sprinkle with olive oil, vinegar, salt and fresh cracked black pepper.
Toss salad together and arrange on plates.
Top each plate with a large mound of the tuna salad.
I like to give an additional squeeze of fresh lemon all over the top of the greens.
Serve right away.
Enjoy!

Print entire post