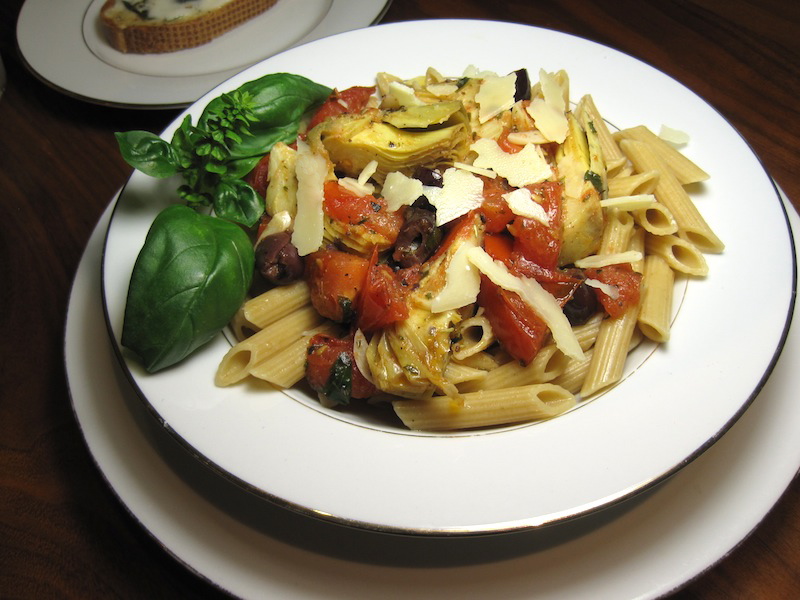 I didn't have a lot of time to make lunch today, there's so much going on right now… planning the move, packing, getting the house ready to sell, more packing, throw in some anxiety, selling my car, more packing… you get the picture!
Anyway, I was craving pasta and the basil in the garden is so beautiful, it just made sense to harvest some and make this dish.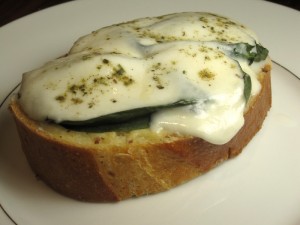 I thought garlic toast would be a good  side to the pasta. I spread a thin layer of homemade garlic sauce on toasted bread, topped that with a few of the whole basil leaves, which was then topped with mozzarella cheese, and a little Italian seasoning. Put it under the broiler for a few minutes, until the cheese is bubbly and melted.
Here's my quick and delicious recipe. Hope you give it a try.
| | | |
| --- | --- | --- |
| Delicious Pasta Dish in 15 minutes! | | |
Recipe Type:
Entree, Main
Author:
A quick, easy pasta dish that is sure to please. 15 minutes and it's on the table!
Ingredients
1/2 lb. of Whole Wheat Penne Pasta
3 to 4 Tablespoons Olive oil
2 chopped tomatoes
10 cloves sliced garlic
1/2 cup Kalamata olives
1 can artichoke hearts, drained
1 cup chopped fresh basil
salt and pepper, to taste
Crushed red pepper, if desired
Parmesan cheese, to taste (optional)
Instructions
Put a large pot of water on to boil for the pasta.
Add a sprinkle of salt to the water.
Once water starts to boil, cook pasta according to directions on box.
Meanwhile, put about 3 tablespoons of olive oil into a large saute pan.
Prepare the tomatoes and garlic.
Place the tomatoes, garlic, olives, and artichoke hearts into the saute pan and allow to simmer over medium heat.
Chop the basil and stir into the saute pan.
Add a little more olive oil if needed.
Add salt and pepper.
Once the pasta is done drain and put a large spoonful into each serving bowl.
Top with the tomato mixture.
Sprinkle with Parmesan cheese and crushed red pepper, if desired.

Print entire post