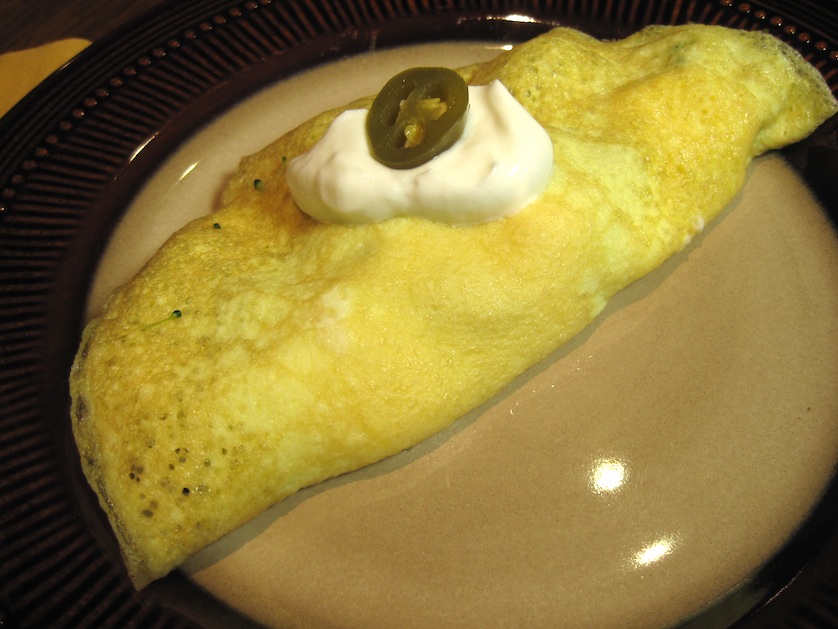 Lately I have become addicted to this little omelette. I think it's important to have some protein in the morning and it actually helps me eat more sensibly all day. Aside from the fact that this omelette is super yummy, it's very satisfying and only 125 calories!
Author:
A delicious light omelette. Satisfying and perfect for when you're watching what you eat!
Ingredients
Extra virgin olive oil cooking spray
1 egg (70 calories)
1 wedge of Laughing Cow Low Fat Swiss Cheese (35 calories)
2 Tablespoons steamed, mashed broccoli (15 calories)
5 chopped jalapeno rings (5 calories)
Optional garnish:
1 teaspoon fat free plain yogurt (10 calories)
Instructions
Spray a small non-stick frying pan with olive oil cooking spray.
Turn pan on medium heat.
In a small bowl, whisk the egg with a little salt and about a teaspoon of water.
Pour egg into pan and allow to cook for about 2 minutes, undisturbed.
While the egg is cooking place the broccoli evenly over 1/2 of the eggs.
Place the chopped jalapeno over the broccoli.
Cut the Swiss cheese into small pieces and put over the broccoli.
Fold the egg over to form the omelette.
Turn off heat and slide the omelette onto the serving plate.
If desired, garnish with plain yogurt and a jalapeno ring.

Print entire post