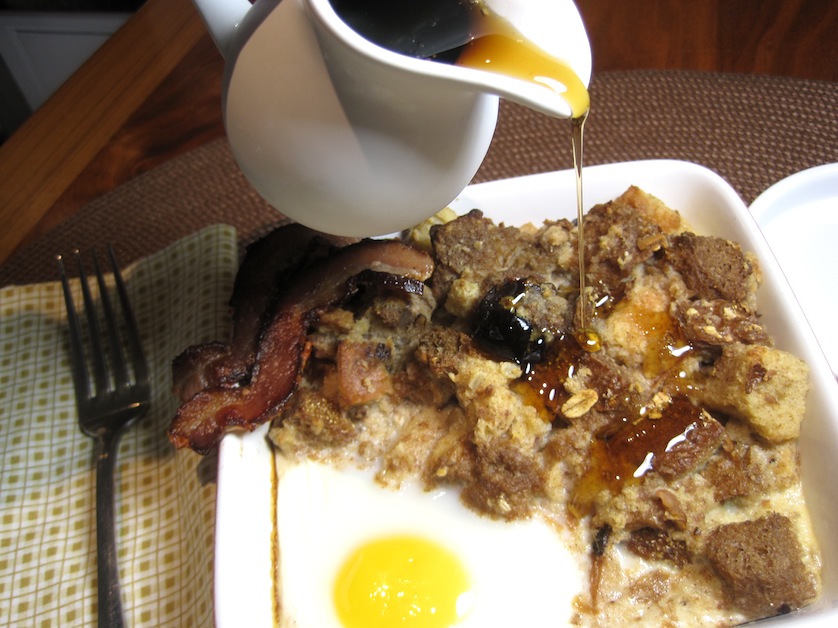 I wanted to make something different for breakfast, and I wasn't sure if I was in the mood for something sweet or savory? With this breakfast I didn't have to choose, 'cause it has it all!
There's always plenty of bread in the house (this is somewhat of an understatement). I will admit right now that I definitely have a weakness for bread. It's typical for me to come home from the grocery store with 4 or 5 different types of bread for the week. It's just hard to decide between sourdough or French, wheat or rye, buns, baguette, rolls, etc. and before I know it I'm at the checkout with a variety.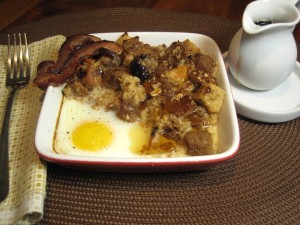 That being said there were several different types of bread in the pantry, but not enough to make 4 servings of the same type of French Toast… that's when bread pudding came to the rescue!
I wanted something savory, too, so adding the egg in the corner did the trick… and some bacon on the side.  😉
| | | |
| --- | --- | --- |
| French Toast Bread Pudding with Egg & Bacon | | |
Author:
A sweet bread pudding with inspiration taken from French toast. Served with an egg and some bacon makes the perfect breakfast!!
Ingredients
8 to 10 pieces of bread, cut into 1-inch rough cubes (I used sourdough, French, nine grain and brown bread)
1 cup chopped prunes
2 eggs
1 cup milk (more or less)
1/4 cup sugar
1/2 teaspoon cinnamon
1/2 teaspoon vanilla
4 eggs, Jumbo size work best!
4 pieces of bacon, optional
Instructions
Preheat oven to 350 degrees.
Lightly grease 4 individual baking dishes. Set aside.
Cut the bread roughly into 1-inch cubes and place into a large bowl, along with the chopped prunes. Set aside.
In a medium bowl, whisk together the eggs, milk, sugar, cinnamon and vanilla. Pour over the bread and prunes. Lightly toss together and allow the liquid to be absorbed by the bread. If you need more liquid, just add a little milk.
Once the liquid is absorbed, divide the bread mixture evenly among the 4 baking dishes leaving one corner empty for an egg.
Place the baking dishes on a baking sheet. Crack one egg into the corner of each baking dish.
Bake for approximately 15 minutes, or until bread pudding is set and egg yolk is still runny. You'll want to keep a close eye on the oven to be sure that you don't overcook the egg.
Serve with a couple pieces of bacon on the side and warm maple syrup.

Print entire post