This Giveaway ends July 15th… enter today to win!!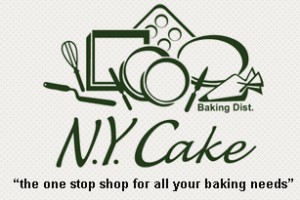 I'm so happy we're doing our first giveaway! One lucky winner will receive a $50 gift certificate from one of my favorite places… N.Y. Cake ~ "the one stop shop for all your baking needs"!  They have a huge online store (they ship worldwide), and they also have 2 locations; one in Manhattan and their newest store in West Los Angeles.
How to enter… it's easy!
"Like" both Saucy Girl's Kitchen and N.Y. Cake on Facebook.
Follow Saucy Girl's Kitchen on Twitter and while you're there tweet about the giveaway! If you are not on Twitter, just disregard this step.  😉
Subscribe to my blog!
That's it! Once you're done just post a comment on this post to let me know.
Want to submit more entries? Here's how:
Leave a comment on any of my website RECIPE posts between now and July 15th, 2011. Each additional comment on my website = 1 more entry in the giveaway!
This giveaway closes Friday July 15th, 2011 at 5:00 pm PST and the winner will be chosen by Random.org
The winner will be notified by email, so please be sure your email address is correct. You will have 48 hours to respond back to me. After that time has passed, a new winner will be chosen.
Good Luck!  
* * * * *
Thank you to everyone who participated!
Congratulations to the winner of the Giveaway ~ Stacy Schlyer!
You will receive an email shortly.  😉

Print entire post