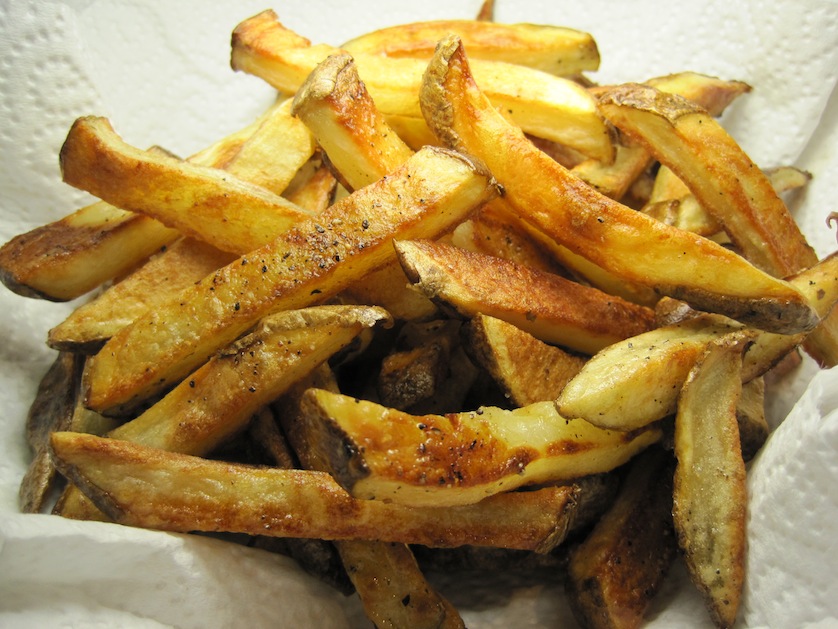 These French fries are so crispy baked in the oven using olive oil. Everyone in the house has become addicted to the flavor of truffles… it's a good thing, believe me! So this truffle mayonnaise was a natural partner for these fries.
| | | |
| --- | --- | --- |
| Oven-baked French Fries with Truffle Mayonnaise | | |
Recipe Type:
Appetizer/Side
Author:
These French fries are super crispy, even though they've been baked in the oven using olive oil. Pair them with Truffle Mayonnaise for an incredible taste sensation!!
Ingredients
For Fries:
4 Large potatoes
1/4 to 1/3 cup olive oil
Truffle salt
Fresh Ground Black Pepper
For Truffle Mayo:
1/2 cup Mayo (I use the kind made with olive oil)
1/2 cup fat free plain yogurt
1 Tablespoon Truffle oil, or more to taste
Truffle salt, to taste
Fresh ground black pepper, to taste
Instructions
For Fries:
Preheat oven to 350 degrees. Lightly coat a baking sheet with olive oil.
Wash the potatoes if you're leaving the skins on (as I did), or peel them, if desired.
Cut the potatoes into the desired thickness that you want your fries.
Place cut fries on paper towels and rid the potatoes of excess moisture by blotting dry.
Toss the fries on the baking sheet and be sure to evenly coat them with the olive oil, truffle salt, and black pepper.
Place the fries in a single layer, keeping them separated.
Bake in the oven for about 20 minutes, or until the fries are crispy and golden.
Serve right away with Truffle Mayonnaise for dipping.
For Truffle Mayonnaise:
While the fries are cooking you can make the Truffle Mayo by mixing all the incredients together.
Be sure to taste it, and then add a little salt and pepper at a time to get the flavor exactly the way you like it!

Print entire post