Last weekend I made these pancakes and they were a huge hit! They were perfect paired with what else… Grape Jelly, in syrup form.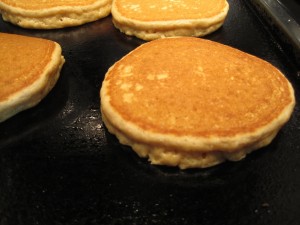 The pancakes turned out surprisingly fluffy, and they had great peanut butter flavor. I used all natural, organic peanut butter with nothing added to it. If you're using peanut butter that has sugar added, you may want to lessen the amount of sugar that you use in the pancake batter.
I was thinking that these pancakes would probably be really delicious with Nutella Syrup on them. Next time I'm going to heat up some Nutella with milk added (to thin it out) and use that as my "syrup".  Yum, next time may be very soon!!  😉
INGREDIENTS
1 cup Whole Wheat Flour
2 1/2 tsp Baking Powder
1/2 tsp Salt
1/2 cup Creamy Peanut Butter
3 Tbsp Sugar
2 Tbsp Vegetable Oil
2 Eggs
1 cup Milk
Grape Jelly Syrup: equal parts Grape Jelly and water
METHOD
In a small bowl combine the flour, baking powder and salt.
Set aside.
In a large bowl whisk together the peanut butter, sugar, vegetable oil and eggs until creamy.
Slowly add the milk and blend together well.
Add the dry ingredients and stir just until blended.
Lightly coat your griddle with oil. I set the griddle on 275 degrees, or medium heat if using the stovetop.
Once griddle is heated, drop pancake batter onto the griddle.
I made smaller pancakes using a cookie scoop to make perfect pancake rounds.
Keep a close eye on the pancakes and flip them as soon as the first bubbles begin to appear on the edges.
While the pancakes are cooking, I made the Grape Jelly Syrup by adding equal parts grape jelly and water.
Allow it to simmer together in a small saucepan and serve it warm with the pancakes.

Print entire post