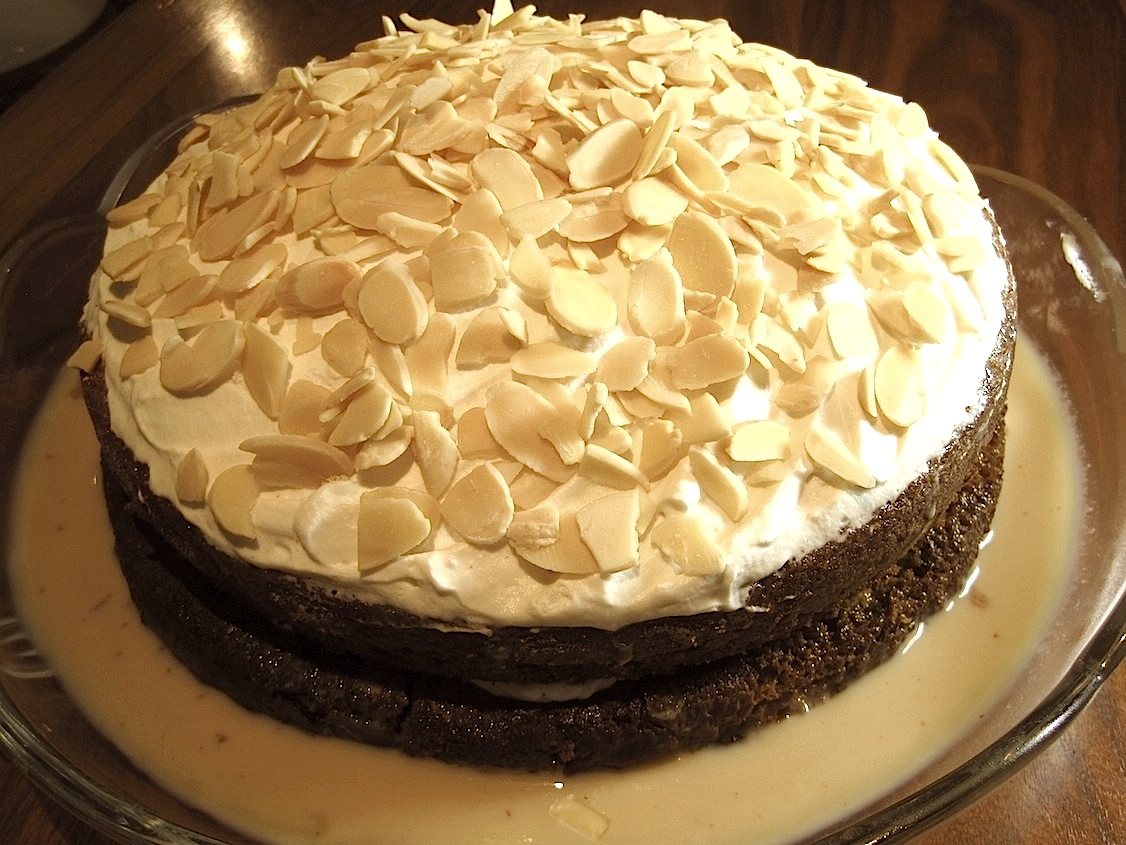 Tres Leches Cake is what my man requested for his birthday this year and I was more than happy to make it for him. It's also a favorite of mine!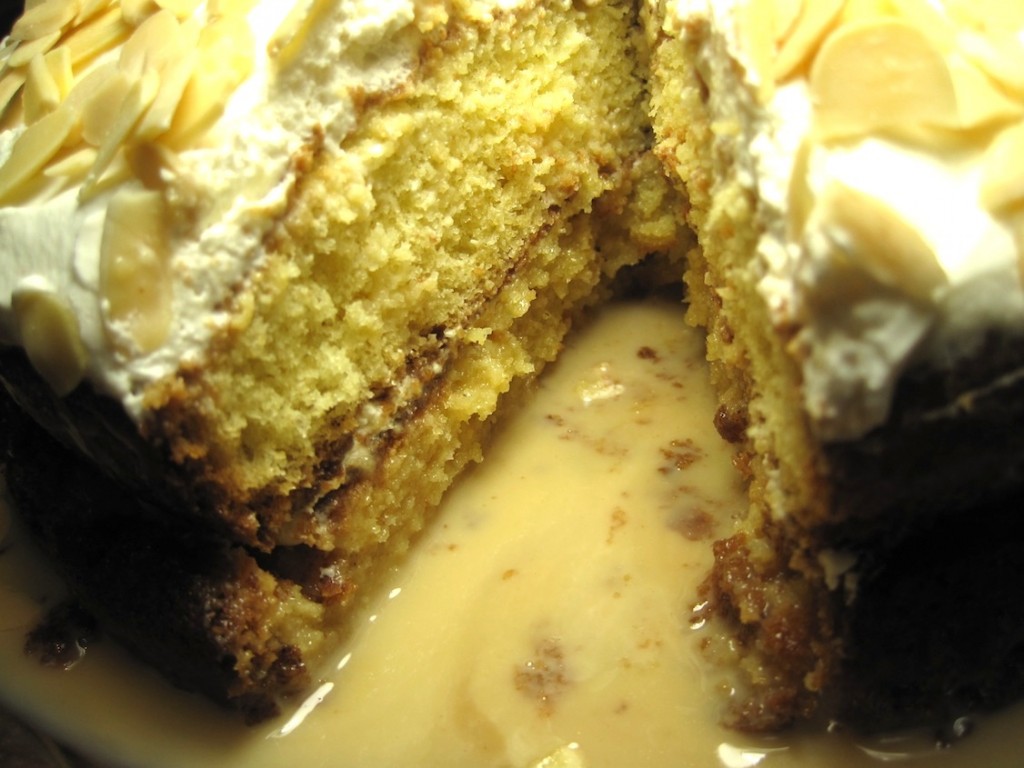 This cake is extremely sweet and normally very fattening. Since I've been being "good" since summer is almost here, I trimmed the recipe down a little by using fat free milk and fat free condensed milk… but I couldn't resist adding a layer of Nestle La Lechera Dulce de Leche Caramel. If you haven't tried this you are really missing out. Seriously, it is so absolutely delicious! It's not expensive and can be used in so many ways for desserts, etc. I just love it!
| | | |
| --- | --- | --- |
| Tres Leches Cake with Dulce de Leche | | |
Author:
Total time:
1 hour 30 mins
Excellent cake. Moist, rich and delicious this cake is dangerous! Now let's take it to another level by adding a layer of Dulce de Leche in the middle. Wow!
Ingredients
For cake:
2 1/3 cups all-purpose flour
1 Tablespoon baking powder
3/4 teaspoon salt
1 cup sugar
1/3 cup olive oil (you can use butter or veg oil)
2 whole eggs
1 cup milk
1 teaspoon vanilla extract
2 cups fat free milk
1 (14 oz.) can fat free sweetened condensed milk
1 (13.4 oz.) can Nestle La Lechera Dulce de Leche Caramel
For Whipped Topping:
1 1/2 cups heavy whipping cream
1/2 cup sugar
1 teaspoon vanilla extract
Slivered almonds, for garnish
Instructions
Preheat oven to 350 degrees. Grease and flour two round cake pans. Set aside.
For cake:
Sift flour and baking powder together and set aside.
Cream olive oil and 1 cup of sugar together until combined. Add eggs and continue to beat for a few minutes. Mix in the 1 cup of milk and 1 teaspoon of vanilla extract.
Add the flour mixture to the olive oil, a little at a time. Mix on medium speed until well blended.
Pour batter into prepared pans. I advise pouring a little more batter into one of the pans to be the lower cake layer. It just works better if the lower layer is thicker (I learned this after making my cake). 😉
Bake at 350 degrees for 25 to 30 minutes.
While the cake is cooling you can make the whipped cream topping by placing the heavy cream, sugar and vanilla extract in a medium bowl and beating together until thick. Set aside.
Once cake has cooked enough to remove from pans, do so, placing the bottom layer (thicker) on the cake plate). I recommend using a cake plate that is at least an inch or two deep to accommodate the liquid from the cake.
Combine the 2 cups of fat free milk and condensed milk together. Pierce the bottom layer of cake several times with a fork. Pour half of the milk mixture over the cooled cake.
Next comes a thick layer of the Dulce de Leche Caramel. Yum! Then cover that with about a third of the whipped cream topping.
Before placing the upper layer of cake on top, pierce it several times with a fork. Place on top of cake and pour the remaining liquid slowly over the top cake, allowing the liquid to be absorbed into the cake.
Top the upper layer with the remaining whipped cream. Garnish with slivered almonds.
Place covered in the refrigerator for at least 3 hours before serving.

Print entire post