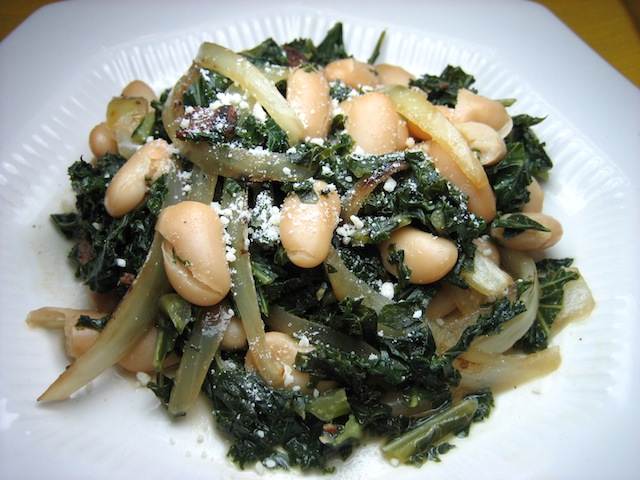 I think I have just discovered my new favorite thing… KALE. Sure, I've had it before and liked it, but the way I prepared it today was so delicious and perfect to me.
The other day I bought a giant bunch of kale with no specific plan for it, except I know it's good for you so I was going to include it somewhere. Looking around in the fridge for lunch today I saw the kale in the vegetable bin. Hmmm, what to do with it? I knew I wanted to keep it simple and this recipe is just that.
There's something about the flavor of this dish that brought me right back to my Grandfather's table. As I ate it I knew that this was something I was remembering he had made me as a child. I had re-created it after all this time.  Funny, my hands seemed as if they were on auto pilot as I squeezed the lemon on top right before serving and sprinkled the Parmesan cheese.
INGREDIENTS
2 Tablespoons olive oil
1/2 sliced white onion
1 large bunch of Kale
1 1/2 cups water
1 chicken bouillon cube (vegetable or beef work, too)
1/2 piece of cooked bacon, diced (sure you can use more, but not necessary for flavor)
1 can white beans (Cannellini, Kidney or Great Northern)
Squeeze of lemon
Parmesan Cheese, for garnish on top
METHOD
Place a tablespoon of olive oil in a small frying pan.
Add the sliced onion and a sprinkling of salt.
Cook over medium low heat until onion is translucent.
Set aside.
Wash the kale thoroughly and chop it into small pieces, throwing away the hard stem in the centers.
Place the other tablespoon of olive oil in a large saucepan.
Turn pan on medium-high and add the kale.
Cook and stir until all the kale is wilted.
Add the water, bouillon cube, and bacon.
Turn heat to medium-low and continue to cook for about 10 minutes, stirring often.
Rinse the white beans and add to the kale, along with the onions.
Stir and allow to cook for a few more minutes or until most of the water is absorbed.
Plate and serve with a squeeze of lemon on top and a sprinkling of Parmesan cheese.
Enjoy!
Note: You could add garlic into the onions, if desired. And you could also add black pepper. I chose not to for my recipe and I loved the flavor!

Print entire post