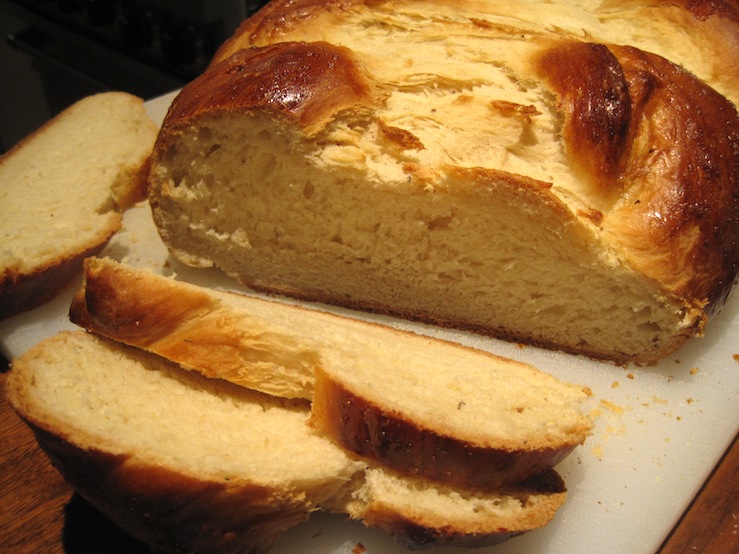 I'm pretty sure that the first time I had this Swedish coffee bread as a child was the first time I experienced cardamom. I've loved them both ever since! This is a recipe my step-mother used to make when I was a child. It's not too sweet, which is just one more reason I like it so much!
When I was planning to make the coffee bread I figured I'd better go buy some fresh yeast. I had some that had been in the fridge for a bit and I had remembered the last time I used it the results weren't great. So, I bought some super yeast… and boy was it ever!!
I let the dough rise the first time in the bowl, and then the second time was after I had already braided it. It rose beautifully each time. However, when I put it in the oven and it had begun cooking, it also continued to rise and grow in the oven! I ended up with a gigantic Swedish coffee bread. We couldn't stop laughing it was so huge!!
It turned out wonderful. I love it toasted with a little bit of butter and a cup of tea or coffee. It does freeze really well, so half of it is in the freezer waiting for that lazy Sunday morning when I bring it out and warm it up.
Makes 1 large loaf – serves lots of people
2 1/2 cups Luke Warm Milk
4 1/2 tsp Yeast (2 pkgs.)
3/4 to 1 cup Butter, melted
20 Cardamom Seeds, pounded
In a small bowl dissolve the yeast in 1/2 cup of the warm milk.
Allow to sit until yeast foams (about 15 minutes).
Meanwhile, in the bowl of an electric mixer, using the hook attachment, add the remaining 2 cups of milk, sugar, egg, salt, butter and cardamom.
Add in the small bowl of yeast and milk, along with the flour.
Beat until combined and a ball of dough forms.
Remove and place in a well-greased bowl.
Cover with a clean dish towel and allow to rise in a warm place for about 2 hours, or until double in size.
When dough has risen, punch down and knead for a few minutes.
Form into the desired shape and place on a baking sheet (greased or use a silpat).
I like to braid mine, but you can do loaves, as well.
Cover again with dish towel and allow to rise one more time, about another hour.
Preheat oven to 350 degrees.
If desired, brush top with egg whites and bake for about 30 minutes, or until golden. Depending on the size/shape of your bread it may take more or less time to bake.

Print entire post