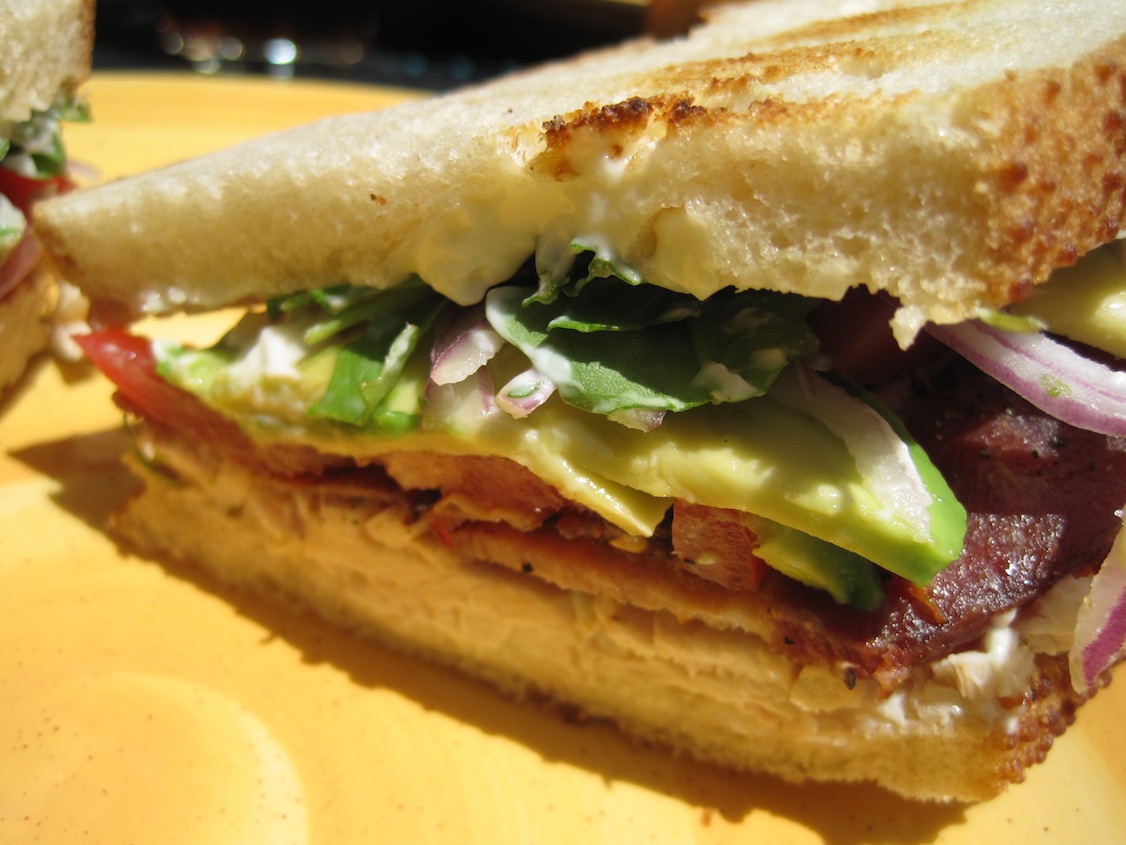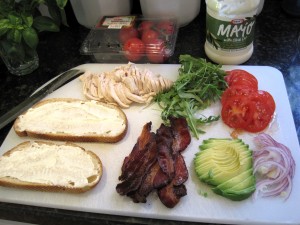 I really enjoy making (and eating) a great sandwich. Here you can see that I have all the ingredients set out to make 2 sandwiches. The sandwich tops are in the toaster oven ready to be toasted up at the last moment. The chicken breast was leftover from a Rotisserie chicken that I had bought the day before to make quick chicken enchiladas. The bacon was leftover from breakfast the day before… 'cause I actually knew I was going to make these sandwiches. Yep, I'm a planner!!
I was raised back East with Hellman's mayonnaise. When I moved to Los Angeles it was called "Best" mayonnaise. I'm still a mayo lover, but now I'm really happy with the flavor of Kraft Mayo made with olive oil. Seriously, it's a great alternative.  

Once my ingredients were prepped, I toasted the sourdough bread and in just a few minutes the sandwiches were prepared and lunch was served!
Author:
Ingredients
4 pieces of toasted Sourdough bread
1 thinly sliced cooked chicken breast
4 pieces of cooked bacon
1 large thinly sliced tomato
1/2 thinly sliced avocado
1/4 thinly sliced red onion
Handful of arugula
Mayonnaise (I use Kraft with Olive Oil)
Salt and pepper, to taste
Instructions
Toast 2 pieces of sourdough bread for the bottoms of the sandwich.
Meanwhile, set up your station so that all the sandwich ingredients are ready.
Place a thin layer of mayonnaise on the toasted breads. Place the chicken, bacon, tomato, red onion, avocado, and arugula on top (in that order).
Next toast the tops for your sandwich so that they are warm. I put a little mayo on the tops, as well. Cut sandwich in half and serve right away.
Enjoy!

Print entire post