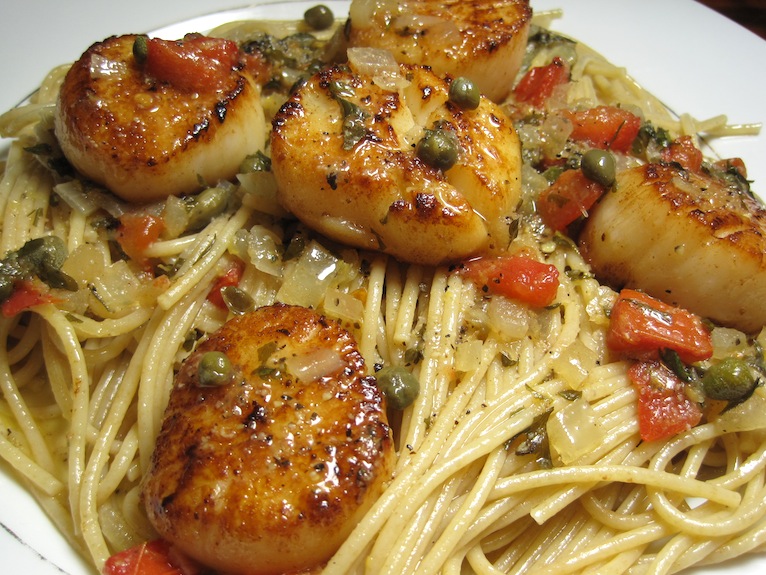 I am such a seafood lover. Making scallops is easy and quick. They cook fast! That's just one of the beautiful things about them. Scallops are definitely one of my favorites. I especially enjoy them with this light sauce, which allows the wonderful sweet flavor of the scallop to shine.
I made this dish with whole grain pasta, but you can make it with any type of pasta you like. I'm actually liking the whole grain pastas more. I must admit that I was resistant at first, but now it's become my preference. Not just from a health standpoint, but I really do enjoy the taste and texture more. It's denser and has a nutty flavor.
Scallops with Lemon Beurre Blanc Sauce
Serves 2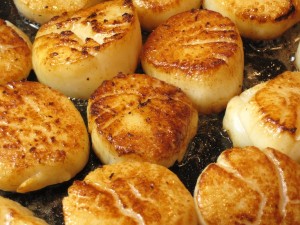 INGREDIENTS
2 Tablespoons butter
2 Tablespoons olive oil
1 small finely chopped shallot
2 cloves of finely chopped garlic
½ cup white wine
½ cup finely chopped tomato
¼ cup capers
juice of 1 lemon (I used a little zest, too!)
salt and pepper, to taste
2 Tablespoons chopped fresh parsley
3/4 lb. of large scallops
pasta for 2, cooked according to package directions
METHOD
Clean your scallops and place them on paper towels to get rid of all excess water.
Put the pasta water on the stove in a large pot on medium heat.
For sauce:
In a medium sauté pan over medium-low heat add 1 tablespoon each of the butter and olive oil.  Add the shallot and garlic and sauté for a minute or two, or until translucent. Add the white wine, capers, lemon juice and zest. Allow to simmer over low heat for about 3 minutes. Add parsley and stir. Taste and season with salt and pepper, as needed.  Keep sauce warm while you make the pasta and scallops.
Add the pasta into the hot water (it should be boiling by now) and cook according to time on package.
Meanwhile, make the scallops:
In a large frying pan on medium high heat, add the remaining butter and olive oil.  When the butter and oil sizzles, add the scallops, being sure not to crowd them. Cook for about 3 minutes per side, or until light golden brown and caramelized.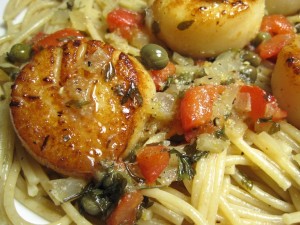 Plating:
Drain your pasta and place it back into the hot pot. Add a little bit of the sauce to the pasta and stir. Add a dash of salt. Place the desired amount of pasta on each plate. Top the pasta with a spoonful or two of the sauce. Place the scallops on the pasta and top with the remaining sauce.
Enjoy!

Print entire post