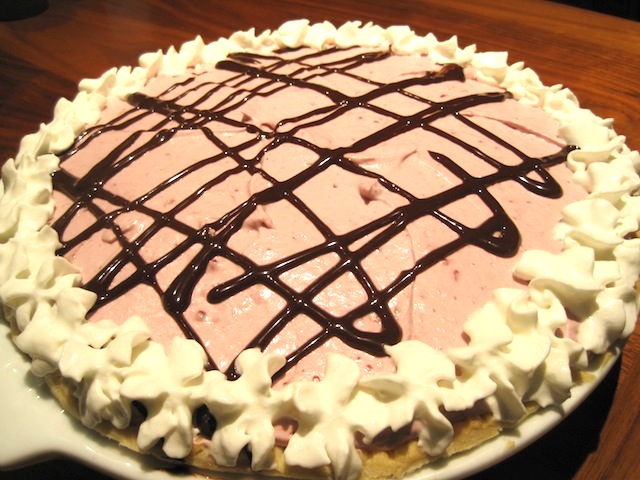 I was on a mission for something chocolate, but wasn't sure what to make? I searched the kitchen for inspiration. That's when I saw the unopened jar of seedless raspberry jam. Yum… raspberry and chocolate! I immediately thought pie. I always have Manufacturing Cream on hand (yes, I know it's fattening), so my mind went to raspberry and cream. Throw in some ganache and you have a delicious pie. Ganache is simply an equal mixture of chocolate and cream. It's very versatile and can be used for icings, fillings, and all sorts of desserts.
Here's my impromptu recipe for Raspberry Cream Pie. The hardest part about the pie was actually finding room in my freezer to store it. It was like an ice cream pie. 😉
Raspberry Cream Pie with Chocolate Ganache
INGREDIENTS
Pillsbury Pie Crust (you can make your own, but I didn't)
For Chocolate Ganache:
12 oz. Dark Chocolate, chopped into small pieces
1 cup Heavy Cream
1 teaspoon butter, softened
½ teaspoon pure vanilla extract
For Raspberry Cream filling:
½ cup seedless Raspberry Jam or Jelly
2 cups Heavy Cream
METHOD
Preheat oven to 350 degrees.
Place the pie crust in a 9-inch greased pie pan. Be sure to use a fork and poke some air holes in the bottom of the crust (or use pie weights). Bake for 15 minutes, or until lightly golden. Remove from oven and set aside to cool.
For Chocolate Ganache:
Cut chocolate pieces and place in a medium glass bowl. Set aside.
Place the cream in a small saucepan on medium heat until it comes to a boil. Remove from heat and immediately pour cream over chocolate. Stir until chocolate is completely melted. Add butter and vanilla. Stir until glossy. Set aside to cool, but not harden (you want to be able to pour it into the crust).
For Raspberry Cream Filling:
Whip the heavy cream on high heat until light and fluffy. Add the raspberry jam and continue to whip until incorporated. Store covered in the fridge until pie crust and ganache are cool and ready for assembly.
Assembly:
Pour the cool chocolate ganache into the cooled pie crust. After this step I put the pie in the freezer for about 10-15 minutes to set.
Next top the ganache layer with the Raspberry Cream filling. Put in freezer to set for at least 3 hours.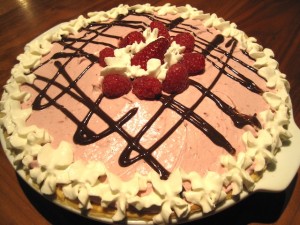 When ready to serve garnish with some whipped cream, chocolate syrup and fresh raspberries, if desired.
Enjoy!

Print entire post