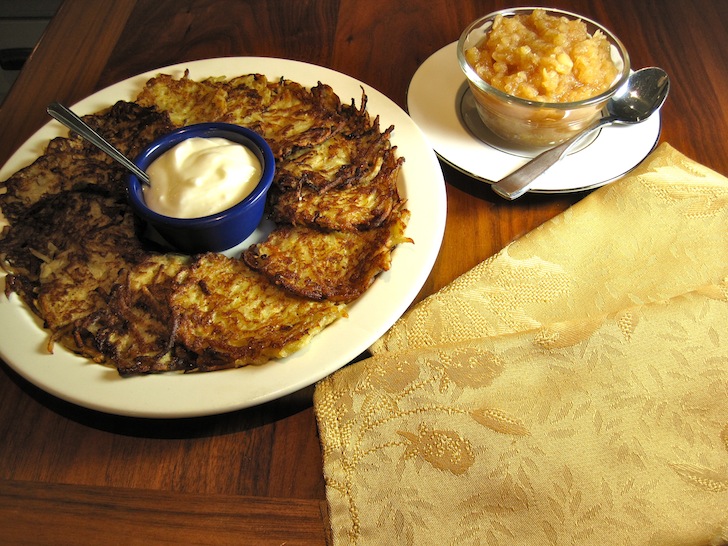 The other day when I posted the Palacinky recipe, my mother (Jo) was very touched and happy. Not only was I sharing a recipe of her mothers (Helen – my Grandmother), but I was also bringing back some of her fondest childhood memories, as well.

Unfortunately, my grandmother hasn't been with us for a very long while. But, I still feel very close to her, especially when I prepare some of these family favorites in my own kitchen.
Today, while my mom and I were talking on the phone about food and recipes (surprise there, huh), Potato Pancakes made their way into the conversation. My mom remembered her mother making them, Austrian style, and would always serve them whenever pork chops were on the menu. The recipe below is shared by my mom. I hope you will give them a try! They are super simple and scrumptious!!
Austrian Style Potato Pancakes
Makes about 20 pancakes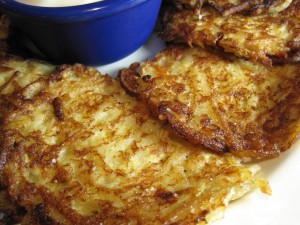 INGREDIENTS
6 cups grated potato
1 large grated onion
1 large egg
1 teaspoons salt
black pepper, as desired
2 Tablespoons butter
2 Tablespoons vegetable oil
Serve with:
applesauce, if desired
sour cream, if desired (plain yogurt is a great substitute!)
METHOD
Place grated potato and onion into a strainer and let all the liquid drain out (20 minutes or so).
Once liquid is drained put potatoes and onion into a large bowl. Add egg, salt and pepper. Mix together well. (Use no flour).
Place half the butter and oil in a large frying pan on medium/medium low heat. Drop potato mixture by large tablespoons onto hot pan. Spread mixture with back of spoon until it is about 3 inches wide. When it looks dry on top, flip it over.
When golden remove from pan and place on paper towels to drain excess oil. Sprinkle lightly with salt while still warm.
Great served with applesauce and sour cream.

Print entire post