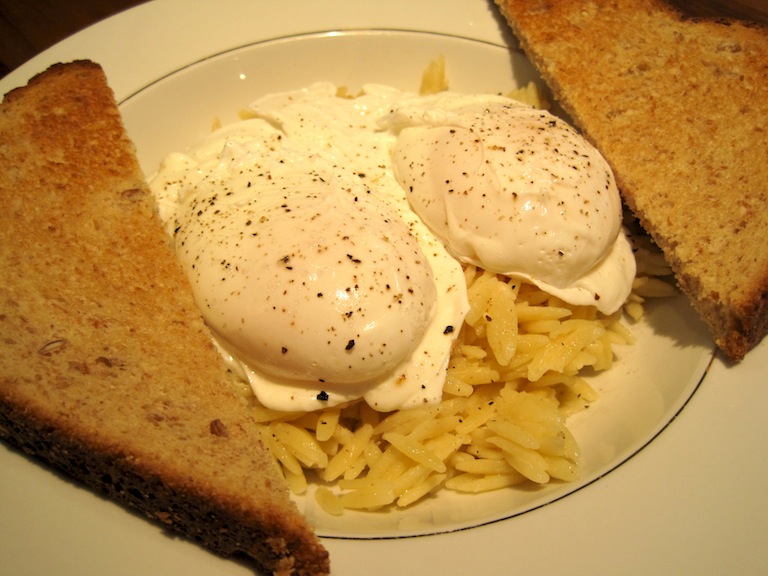 When we were in Hawaii last year I noticed that they served rice with most dishes, even breakfast!  I've always been a lover of rice, especially with a little butter and Parmesan, but used to think of rice as something for lunch or dinner ~ not breakfast… but not anymore.

The other night we had orzo (yes, I realize this is just pasta shaped like rice), and as usual, I prepared more than necessary. Honestly, I think it's an Italian thing, 'cause I always make too much pasta. Anyway, there was leftover orzo and this morning it was breakfast.  It was delicious with two perfectly poached eggs on it. That was then topped with some fresh homemade salsa and Chipotle Tabasco Sauce. A piece of toast made it just perfect!
This recipe works really great with leftover Fettucini Alfredo, too!
Egg Poaching
To poach my eggs I use a saute pan that is about 3 inches deep. I fill it with water and pour in about 2 or 3 tablespoons of vinegar or lemon (about 1 teaspoon per cup of water). White vinegar works best, but it's no big deal to use apple cider vinegar. The vinegar or lemon (acid) just keeps the egg together when you place it into the hot water.
Turn the heat on medium and when the water gets to about boiling point crack your egg(s) into the water. If you want to be sure that you don't break the yolk while doing this, I suggest you crack the egg into a small bowl/cup and then pour it into the hot water. Don't let the water boil, just keep it at a steady medium-low heat.
I know some people talk about swirling the water so that the yolk sits perfectly. I honestly don't care if the yolk is sitting perfectly. Plus, I've usually got 6 or 8 eggs poaching at once, so swirling won't work for me.  In just a few minutes the eggs will be done. I cook mine for 2 to 3 minutes. You can tell just by looking at them if the white is cooked enough and the yolk is still nice and soft.
Remove eggs with a slotted spoon.  You can blot eggs with a paper towel to remove any excess water, if needed.

Print entire post