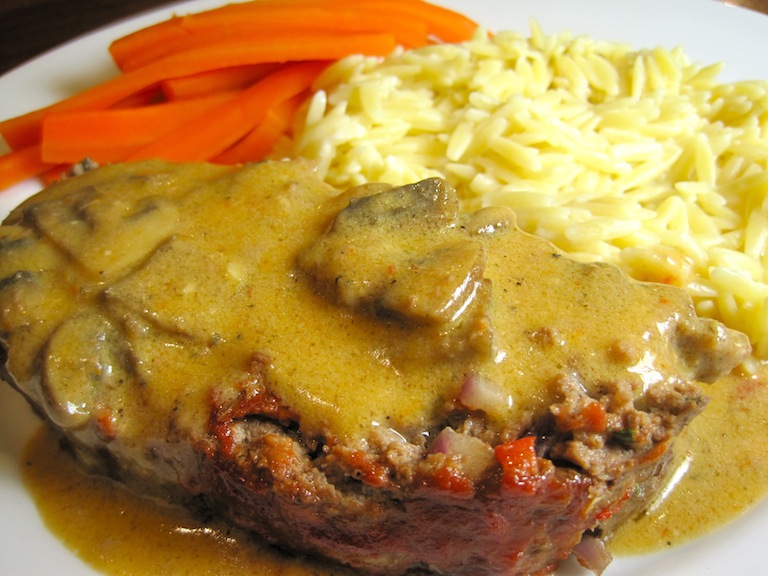 I love meatloaf. I especially love it as leftovers for sandwiches, so I always make extra.
I never follow a recipe for making meatloaf.  That's the great thing about it; if you don't have something on the ingredient list, just leave it out. Want to put some mushrooms in yours, go ahead. Like it spicy, add some jalapenos. I just throw it all together and it never fails to come out great. It's always different, but always yummy!

Here's a loose recipe for those of you who want it.
Meatloaf
INGREDIENTS
3 lbs. ground beef, lean
2 eggs
1 small onion, diced
1 small green bell pepper, diced
½ small red bell pepper, diced
2 carrots, peeled and diced
2 celery stalks, diced
3 Tablespoons fresh parsley, chopped
4 or 5 cloves of garlic, chopped fine
A sprinkle of onion powder & garlic powder
2 teaspoons salt
1 teaspoon black pepper
½ cup water
Ketchup or chili sauce, for the top of the loaf
METHOD
Preheat oven to 350 degrees.
Place all the ingredients, except the water, in a large bowl.  I mix it all together using my hands. You don't want to over mix, just get it all blended.
Once the ingredients are incorporated, add the water – a little at a time.  The meat will absorb the water and it makes the meatloaf turn out lighter and not quite as dense. I use this trick for my meatballs, as well.
Turn the meat out of the bowl into a deep baking dish or onto a baking sheet (if using the baking sheet cover it with foil for easy clean-up).  Shape into a loaf and put a layer of ketchup or chili sauce on top.
Bake in the oven for about an hour and 10 minutes. Allow to rest for about 10 minutes before cutting.
I served it with mushroom gravy.
Mushroom Gravy
INGREDIENTS
2 Tablespoons butter
7 large mushrooms, sliced thin
1 shallot, diced
1 clove garlic, diced
2 Tablespoons flour
2 cups beef stock
Splash of Sherry or Marsala Wine, if desired
Salt, to taste
Black pepper, to taste – I like lots of it in my gravy!
Drippings from the meatloaf pan, optional
METHOD
In a small saucepan melt the butter over medium heat. Add the mushrooms, shallot and garlic. Sauté for a few minutes or until mushrooms and soft and shallot is translucent.
Reduce heat to low. Add the flour into the saucepan and stir to cover veggies and remove any lumps. Add the beef stock a little at a time, whisking as you go to make sure no lumps of flour form.  Continue to whisk. Add more stock or water if needed to achieve the desired consistency.
Add the Sherry or Marsala Wine. I love the flavor boost that this adds to the gravy. I also added in about 1/2 cup of the drippings from the meatloaf pan. Allow the gravy to simmer for a few minutes. Taste and season with salt and black pepper.
Enjoy!

Print entire post