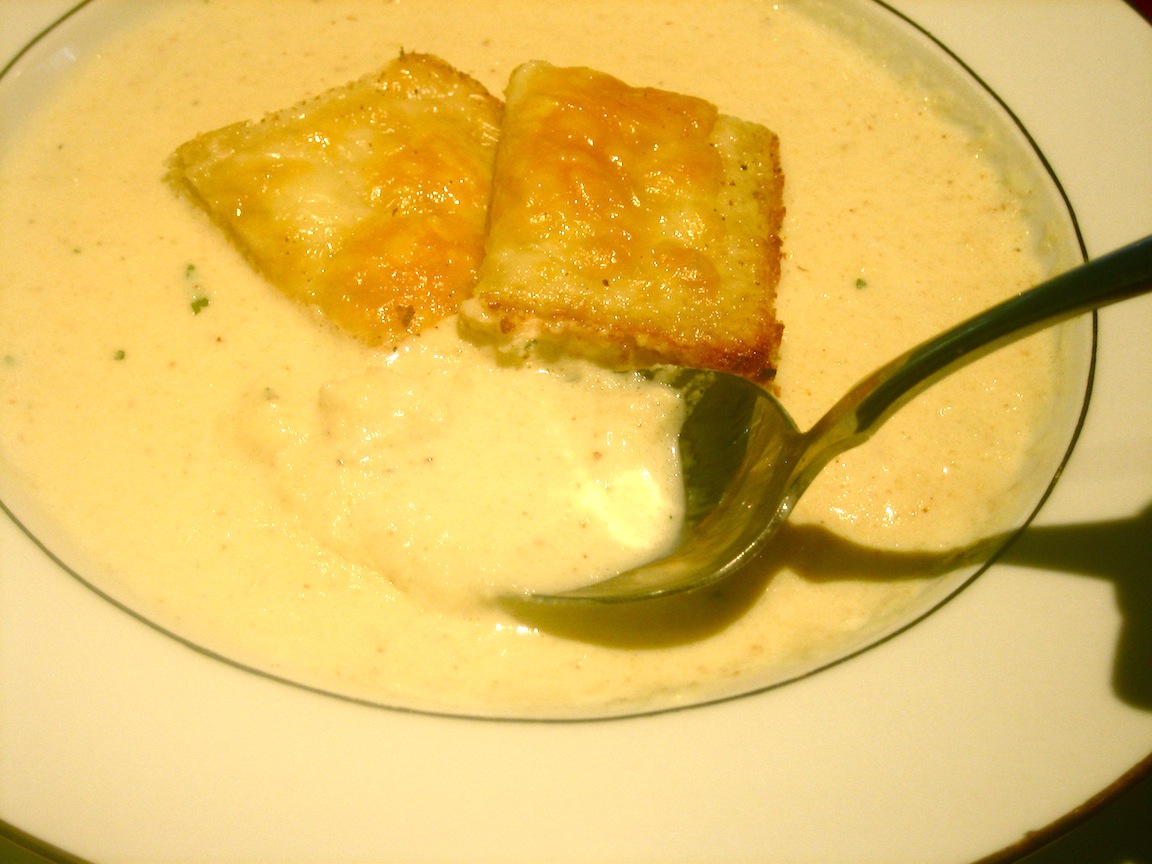 This soup is healthy and delicious. You can easily control the fat content of this soup by using low fat or nonfat milk in the recipe or if you want to make it richer you can use half and half or cream. I've been known to put a little butter in the soup to give it a extra smoothness… but summer is on the way and I don't need "a little butter".

For the optional Cheesy Croutons, you have the same options of using low fat or fat free cheese, or just toast the breads with a little bit of Parmesan and garlic powder.
Cauliflower Soup
INGREDIENTS
1 Cauliflower head
2 Tablespoons olive oil
4 cloves of garlic, unpeeled
1/2 onion
2 cups vegetable broth (chicken broth works)
2 cups milk (more or less)
1/2 teaspoon nutmeg
2 teaspoons fresh parsley, chopped fine
Sea salt and pepper to taste
METHOD
Preheat oven to 350 degrees.
Wash cauliflower and cut off the florets. Place on baking sheet and toss with the olive oil. Place the garlic cloves, unpeeled on the baking dish (yes, you can give them a little olive oil love, too). Place the onion, peel side up, on the baking dish. Roast in the oven for about 30 to 35 minutes, or until cauliflower is soft and golden.
Peel the onion, and pop the garlic cloves out of their skins. Place in a food processor or blender, along with the cauliflower. Pour in enough vegetable broth to pulse until everything is smooth, or a little chunky (if you're like me you like it with a little texture). Be careful using the processor/blender when ingredients are hot! To avoid mishaps I cover the lid with a dish towel.
Place the cauliflower mixture in a large saucepan. Add the milk, nutmeg, and parsley. Add more or less milk, depending upon the consistency you desire.
Taste and adjust flavor with salt and pepper. Top with Cheesy Croutons, if desired, and serve right away. Enjoy!
Cheesy Croutons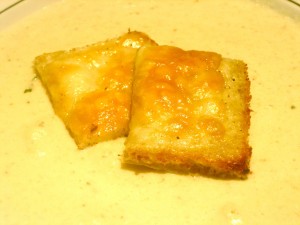 INGREDIENTS
2 slices wheat sourdough bread
Jack and Cheddar cheese, shredded
Sea salt
METHOD
Toast bread slices. Cut into whatever desired shape you want your croutons. Place bread on baking sheet and put a little cheese and salt on each one. Place in the oven for about 5 minutes, or until cheese is melted and bubbly. Place on soup and serve!

Print entire post