Artichokes are so delicious. This recipe can be adapted so easily. I used shrimp in my stuffing, but you could use crab (yummy) or you don't have to use any seafood at all. You could use mushrooms and green peppers in the stuffing to give it more substance. As I've said before, I don't usually follow recipes, so when I give a recipe it's usually pretty loose… meaning, if you don't have 2 stalks of celery, just use one, etc. It's pretty hard to mess this up. Just be sure to taste the stuffing and adjust the seasonings before you stuff the artichoke.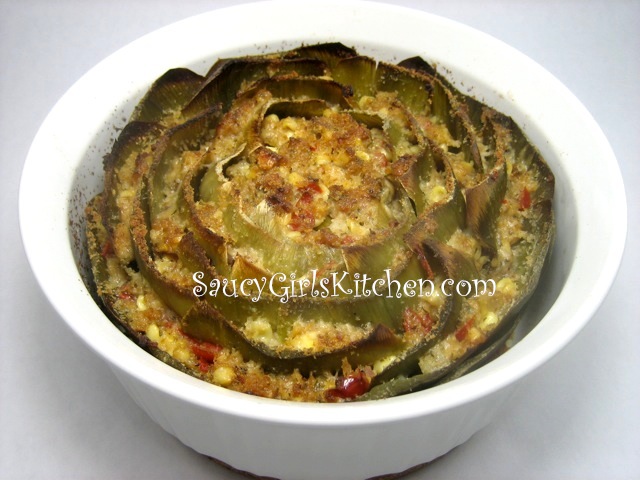 INGREDIENTS
1 Artichoke
2 Tbsp Butter
2 Tbsp Olive Oil
1 small Onion, chopped fine
2 stalks Celery, chopped fine
1/4 Red Bell Pepper, chopped fine
2 cloves garlic, chopped fine
¼ cup White Wine
1 cup Corn (fresh off the cob is best, but frozen or canned is fine)
1/2 lb. raw Shrimp, chopped fine
1 Tbsp fresh Parsley, chopped fine
1/3 cup Bread Crumbs
1/3 cup Parmesan Cheese
1/4 cup Cheddar or Jack Cheese, shredded
Salt and Pepper, to taste
Crushed Red Pepper, optional
METHOD
Cut the artichoke straight across the top about 1 inch from the highest point.  Trim other pointy artichoke leave tips with scissors and cut bottom stem so the artichoke will sit level.  Place artichoke in a large pot covered with water (I like to add some lemon in mine to keep the artichoke color bright). Boil for about 25 to 30 minutes, or until the artichoke is tender.  Remove from pot and turn upside down so water drains out.  Allow to cool.
Meanwhile, you can prepare the stuffing.
In a large sauté pan place the butter and olive oil.  Over medium heat add the onion, celery and red bell pepper. Cook until translucent, 4 minutes or so.   Add in the garlic, white wine, corn and shrimp.  Continue to cook for another few minutes, or until shrimp is pink.  Turn heat off and add fresh parsley, bread crumbs, and cheeses.  Stir lightly to incorporate cheese.  Add in salt and pepper to taste.  Add crushed red pepper, if desired.  Sometimes I will add a little Italian Seasoning, or a dash of Thyme. It's up to you.
Now the stuffing is complete let's get back to that artichoke…
Now that the artichoke is cool, you can remove the choke.  Place your artichoke in a large oven safe bowl or baking dish.  Place the stuffing in between the leaves and all around the layers, so that when you are eating it you will be able to scoop up the stuffing with the leaves.  Continue to do this until all the leaves/layers are full.  Place the remainder of the stuffing in the center of the artichoke.  Put a little Parmesan cheese on top and bake in the oven for about 20 minutes.  Serve right away.
If you dare ~ this is really delicious served with a hollandaise dipping sauce.

Print entire post