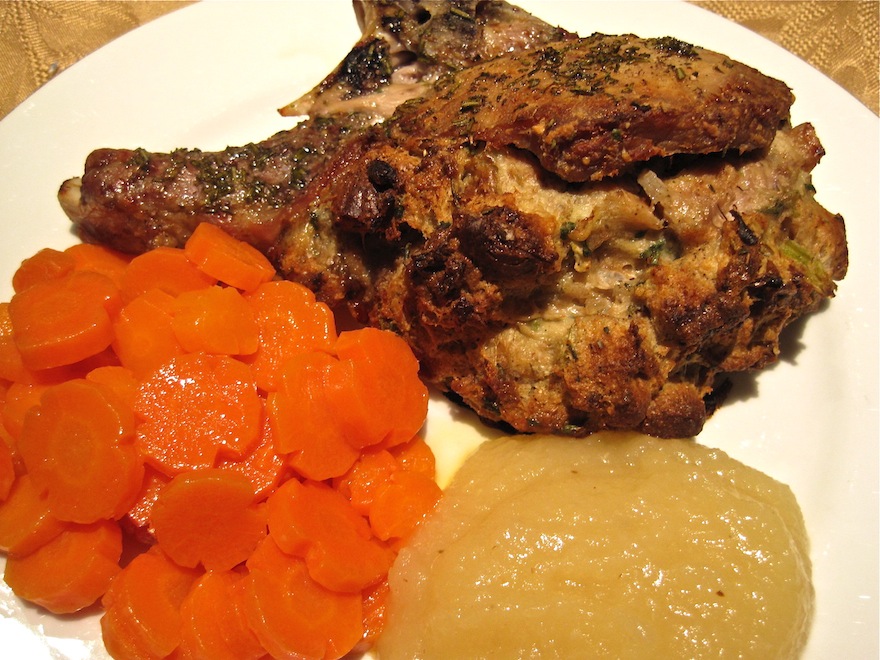 We're having our stuffed pork chops with steamed carrots (a little butter & salt) and applesauce. There's something about pork chops that always makes me want to have them with applesauce. Go figure? We usually have pork chops with mac n'cheese and applesauce. But no mac n'cheese tonight because of the stuffing. It's a good trade.

Stuffed Pork Chops
Serves 2
INGREDIENTS
2 thick pork chops, bone-in
2 Tablespoons butter
1 celery stalk, finely diced
1/4 red onion, finely diced
4 slices wheat bread, cubed
1 egg, beaten
1/2 cup milk
1/2 teaspoon granulated garlic
1/2 teaspoon granulated onion
1/4 teaspoon Italian Seasoning
salt and ground black pepper
dash of white truffle oil (this is optional but so yummy!!)
1 teaspoon fresh rosemary, chopped (for top of chops before cooking)
METHOD
Preheat oven to 350 degrees.
Spray a baking dish with vegetable oil.  Set aside.
Add the butter to a saute pan and saute the celery and onion until soft. Meanwhile, in a medium bowl add the cubed bread, egg, milk, and seasonings. Mix and allow the liquid to absorb. Add in the celery and onion and combine, but don't combine too much, you don't want to end up with mush.
Cut a slit into the pork chop, to the bone. Insert the stuffing into each pork chop, dividing it evenly. This should be the perfect amount for 2 good size chops.
Rub pork chop top with a little olive oil, salt, pepper and fresh chopped rosemary.
Bake for about 35 to 40 minutes.
Enjoy!
Cooks Note: You could add mushrooms to the stuffing. I probably would have if I'd had some on hand! 😉

Print entire post