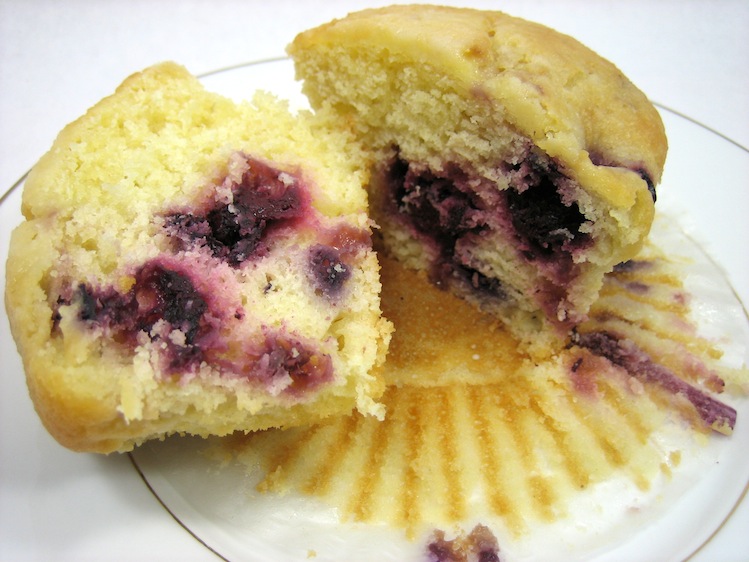 Is there anything better that fresh warm muffins out of the oven? Well, maybe ~ but this morning they were a hit! I really enjoyed my early session of baking. Everyone else was still asleep as I was downstairs in the kitchen whipping up the blueberry muffins. The delicate aroma filled the house. Yum!

18 muffins (or 12 large ones)
INGREDIENTS
1/2 cup butter, softened
1 cup sugar
2 eggs
1 teaspoon vanilla
2 cups flour
2 teaspoons baking powder
1/4 teaspoon salt
1/2 cup milk
2 cups blueberries (fresh is best, but frozen works, too)
METHOD
Preheat oven to 375 degrees. Place baking cups in muffin tin and set aside.
In a small bowl add the flour, baking powder, and salt. Set aside.
In a large bowl beat the butter and sugar until light and fluffy. Add eggs one at a time, beating after each addition. Add vanilla and combine.
Next add half the dry ingredients and half of the milk. Mix and repeat.
Lastly, fold in the blueberries.
Spoon mixture into baking cups, filling about ¾. I like to use my scooper and it fills each one perfectly.
Bake for about 20 to 25 minutes, until lightly golden.
Enjoy!

Print entire post