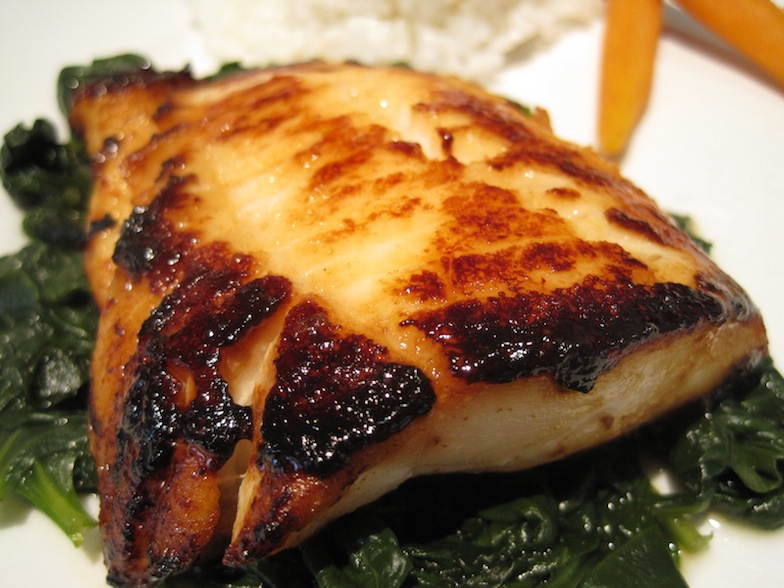 I love the flavor of miso.  This is what we had for lunch today.  It was really easy to prepare and super delicious!  The spinach was steamed with just a little bit of water in the sauté pan.  The carrots were steamed, too, and had a beautiful sweet flavor.

Miso Cod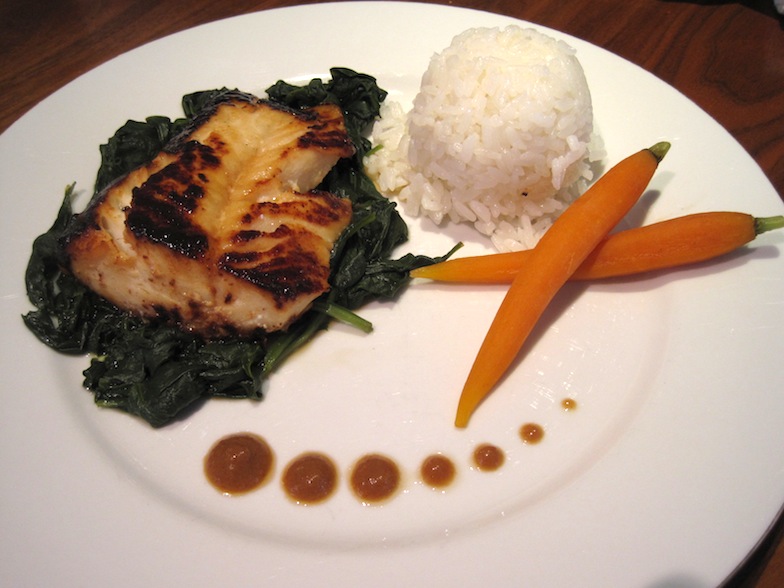 INGREDIENTS
2 pieces of Cod (about 6 oz each)
For marinade:
1 Tablespoon Miso paste
1 Tablespoon Mirin
1 teaspoon sugar
about 3 Tablespoons water
1 Tablespoon butter (to sauté fish)
1 Tablespoon brown sugar (for marinade reduction)
METHOD
Wash the cod and set aside.
In a large zip-lock baggie combine the miso paste, mirin, sugar and water.  Mix it around in the bag.  Place your fish in the bag and refrigerate for a few hours.
To cook: Remove fish from marinade (reserve) and pat dry.
Place 1 tablespoon of butter in a sauté pan over medium heat.  Add the fish and cook for about 3 minutes on each side. I used butter to get good color on the fish (aside from the flavor).
Meanwhile, place the marinade in a small saucepan on medium heat.  Add 1 Tablespoon brown sugar and reduce down to make a decorative miso sauce for the plate.
Sushi Rice
I love rice prepared this way.  It's sticky and has just the right amount of sweetness.
INGREDIENTS
¾ cup rice
1 cup water
3 Tablespoons Mirin
1 Tablespoon sugar
METHOD
Combine the rice and water in a microwave safe bowl with cover.  My microwave has a "rice" setting that sensor cooks the rice perfectly!  I do have a steamer and an electric rice-cooker, but seriously, the rice cooked perfectly in the microwave.
In a small microwaveable bowl add the mirin and sugar. Heat for about 1 minute, mix and make sure the sugar is dissolved.  Add this to the rice and stir with a fork.
I like to serve this rice using a large scoop, so you get a perfect round on your plate.

Print entire post