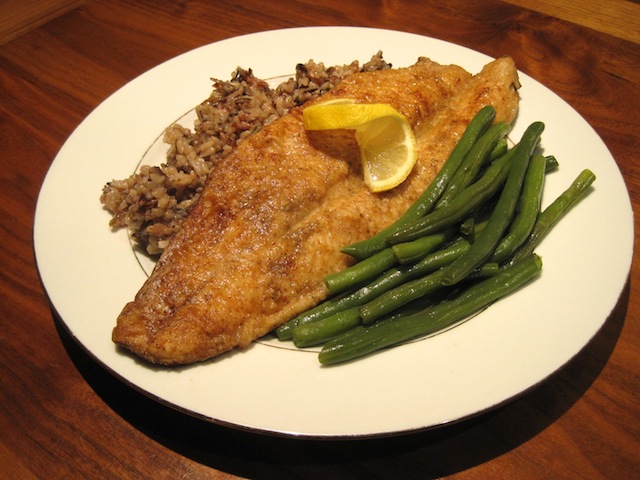 Dinner doesn't have to be complicated to be delicious. On tonight's menu: Pan-Fried Trout with Wild Rice and Steamed Green Beans. This is my favorite way to prepare trout. It enhances the fish, allowing the delicate flavor to shine through.
Fresh Pan-Fried Trout
INGREDIENTS
2 large pieces of trout
1 egg
1/2 cup flour
1/2 teaspoon cayenne pepper
1/2 teaspoon salt
freshly ground pepper
2 Tablespoons butter
1 Tablespoon olive oil
1/2 lemon
METHOD
Set up your workstation. Beat the egg and about a tablespoon of water in a medium bowl. Set aside.
In a separate bowl mix the flour, cayenne pepper, salt and pepper.
Place the butter and olive oil in a large pan over medium heat.
Coat the fish pieces in the egg and then dip in the flour mixture, being sure to coat it completely. Place the fish in the frying pan, top side down first. Allow to cook for about 5 minutes on medium high heat. I like it to get a little golden. Carefully turn the fish over and squeeze the lemon juice on top. Continue to cook for another 3 minutes.
Serve with a fresh lemon wedge on top, if desired. Enjoy!

Print entire post