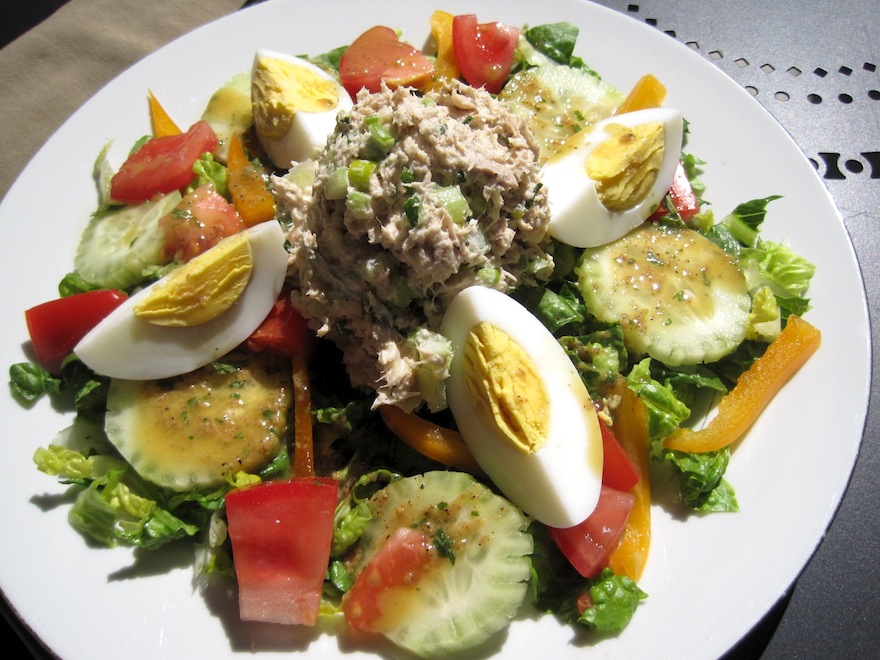 Spring is the in the air. It's a gorgeous day in Los Angeles, 82 degrees. In warmer weather I naturally gravitate toward having more salads. Today I made a salad with tuna and hard-boiled eggs. It was so refreshing and satisfying. I whipped up a vinaigrette using some fresh tarragon from the garden.  As with most of my recipes, you don't have to be exact. You can switch up ingredients depending upon what you have in your fridge.

Salad with Tuna & Hardboiled Eggs
2 full-portion servings
INGREDIENTS
For tuna:
2 cans of white Albacore tuna in water, drained
1/3 cup of mayonnaise
1 stalk of celery, chopped fine
4 spring onions, chopped
1 teaspoon fresh parsley, chopped
1/4 teaspoon celery seed (not celery salt)
juice of 1 small lemon
salt and fresh ground pepper, to taste
For dressing:
1 Tablespoon Dijon mustard
1 Tablespoon olive oil
1 Tablespoon red wine vinegar
1 Tablespoon water
1 Tablespoon fresh tarragon, chopped
salt and fresh ground pepper, to taste
For salad:
1 head of romaine lettuce, chopped
1 Roma tomato, cut into 1 inch-pieces
1/3 orange bell pepper, cut into strips
1/2 cucumber, cut in rounds
2 eggs, hardboiled
METHOD
If you don't have eggs hardboiled already, get those started first.
Next, chill 2 plates in the fridge while you are prepping your food.
For tuna:
In a small bowl combine all the ingredients for the tuna salad. Cover and place in the refrigerator.
For dressing:
Place all ingredients in a small bowl and whisk together. Set aside.
For salad:
It's really important to wash your lettuce, aside from the cleanliness factor, it refreshes the lettuce and makes it taste better (at least to me it does).  Use your salad spinner to dry, or if you don't have a salad spinner, be sure to dry the lettuce with some paper towels.  Rough chop and set aside.
Peel the cucumber.  Take a fork and pull it down the side of the cucumber making groves. Continue around the entire cucumber. Place a paper towel around the cucumber and gently squeeze. Not only will the design make your cucumber rounds look better, it will also take away some of the bitterness that cucumbers sometimes have. Cut into rounds.
Remove the chilled plates from the fridge and place equal amounts of lettuce on each.  Top lettuce with tomatoes, bell pepper, and cucumber, leaving space in the middle for the tuna.  Place a generous scoop of tuna in the middle.  Place the hardboiled eggs around the tuna mound.  Drizzle with salad dressing and serve.
Enjoy!

Print entire post