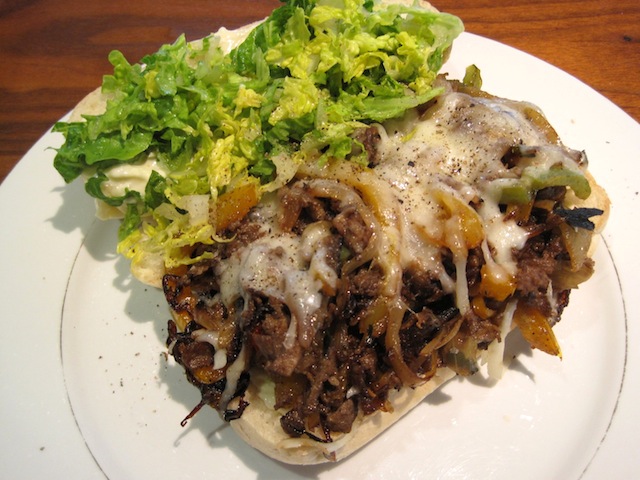 For me, nothing beats a really delicious cheese steak sandwich… which means I'm making it myself!  I bought some great Cheese Steak by Philly Food. It was my first time trying this beef steak and I highly recommend it. The meat was extremely lean, delicious, and perfect on our sandwiches.

Here's my sandwich recipe:
INGREDIENTS
2 hoagie sandwich buns, split
3 Tablespoons olive oil
1 white onion, thinly sliced
¼ red bell pepper, thinly sliced
¼ green bell pepper, thinly sliced
¼ yellow bell pepper, thinly sliced
¼ orange bell pepper, thinly sliced
½ teaspoon salt
¼ teaspoon black pepper
1 teaspoon fresh parsley (you can use dry)
a few shakes of crushed red pepper, optional
2 Cheese Steak by Philly Food portions
1/2 cup shredded white Truffle Cheese (you could use white American, or Jack)
Mayonnaise
4 Pepperoncini, chopped
Shredded lettuce
METHOD
Preheat oven to 300 degrees.
In a large frying pan add the olive oil, onions, bell peppers, salt, black pepper and parsley.  Cook over medium heat for about 10 minutes, or until the vegetables are tender.
Push vegetables to one side of the frying pan and place the steak portions in the pan.  Add more olive oil if needed.  Cook for 1 minute on each side and then break the portions up using a spatula or wooden spoon.  When meat is almost done cooking, mix the vegetables into the meat and finish cooking for a minute or so.
Put your sandwich buns into the oven to get them toasty.
Meanwhile, in the pan, divide the meat and veggies into two portions, in a shape to accommodate your sandwich buns.  Place equal amounts of shredded cheese on each portion and pop into the oven or under the broiler for a second to melt the cheese.
While the cheese is melting, grab your sandwich buns and put mayonnaise on the bread. Place the pepperoncinis on the bottom. Next place your hot meat, veggie and cheese portion on and top that with some shredded lettuce.  Enjoy!
Cooks Note: I used different colors of bell peppers.  However, you could use just green bell peppers, or any combination thereof to equal to about 1 pepper.

Print entire post