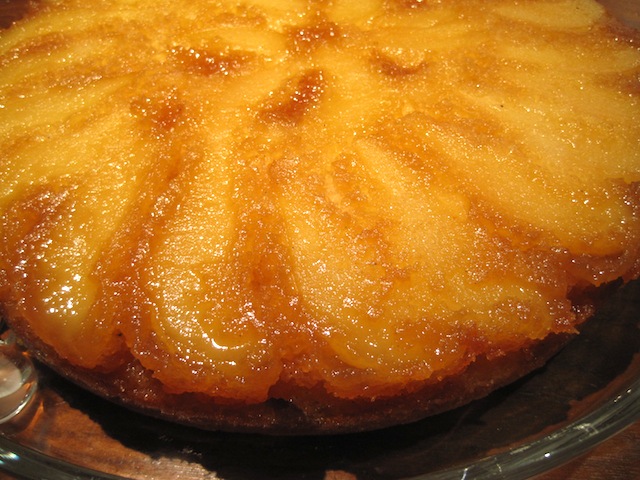 Last night we were in the mood for something sweet, so I whipped up this easy delicious cake! If you want to make it even easier on yourself you can just modify a boxed cake mix and whip this up in even less time. I always have some boxed cake mixes (http://www.pillsburybaking.com) in my pantry and it's fun to become inventive with them. You would just make a white or yellow cake mix. Then use pear juice instead of water (in whatever amount is called for on the box) and add the cardamom. Prep your cake pan the same way creating the topping of your cake with the butter, sugar and pear slices. You're done!

Another item that is always in my pantry is canned fruit. I used the pear halves in this recipe because I had control over the thickness of the slices. Instead of pears you could always use peaches. That would work deliciously with this recipe. It's up to you!
INGREDIENTS
4 Tablespoons of Butter, unsalted
¾ cup of brown sugar
1 can of pear halves (in their own juice)
4 ½ cups flour
2 Tablespoons baking powder
3/4 teaspoon salt
2 teaspoons ground cardamom
2 cups of sugar
3 eggs
1 cup Pear juice (from can)
½ cup buttermilk
1 Tablespoon pure vanilla extract
whipped cream, optional
METHOD
Preheat oven to 350.
Melt the 4 tablespoons of butter and pour into a 10-inch cake pan.  Swirl butter around in pan to be sure it coats the sides and completely covers the bottom. You will want to have butter sitting in the bottom of the pan.  Next you will sprinkle the brown sugar all over the bottom of the pan covering completely.
Drain the can of pears, reserving the juice for the cake batter.  Thinly slice the pears and lay them on top of the brown sugar. Since you will be inverting this cake when it is done baking, the bottom will be the top, so create a nice design with the pears.  Set aside
Sift together cake flour, baking powder, salt and cardamom.  Set aside.
In a large bowl beat the sugar and eggs, until pale and creamy.  Add the pear juice, buttermilk and vanilla.  Reduce to low, add flour to mixture and mix until combined.
Carefully pour the batter into the prepared cake pan being careful not to disturb the pear design.  Bake for about 35 to 45 minutes, or until cake is golden and lightly springs back to touch in center.
Remove from oven and let sit for about 10 minutes.  Place cake plate on top of cake pan and carefully invert.
Serve with fresh whipped cream, if desired. Vanilla ice cream works, too.  😉  Enjoy!

Print entire post