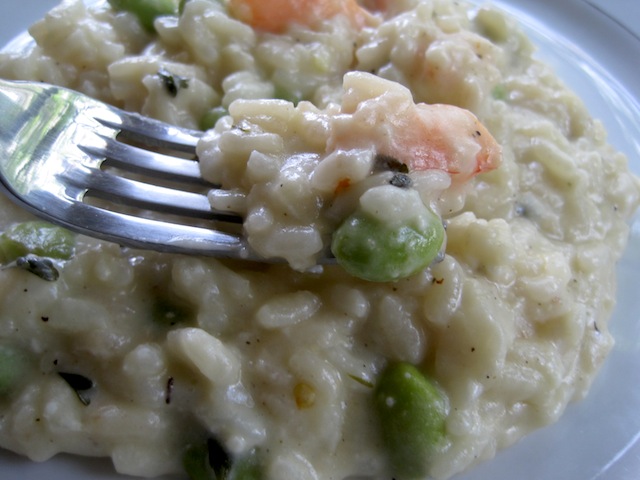 Just looking at this picture as I write the post makes me want to make this risotto again. It's just so deliciously perfect… so creamy and satisfying. The ingredients are items I always have on hand. If I don't have shrimp, no problem. It's great without the shrimp. Or you could throw in some mushrooms.

INGREDIENTS
5 to 6 cups of chicken stock (or shrimp stock if you have it)
1 Tablespoon olive oil
1 Tablespoon butter
½ cup shallots, chopped fine
1 clove garlic, minced
2 cups Arborio rice
½ teaspoon thyme
½ cup white wine
½ cup edamame
10 raw cleaned shrimp (about 2 cups worth), cut into thirds
2 teaspoons fresh parsley
1 teaspoon truffle oil
½ cup parmesan cheese
freshly ground pepper
salt, if needed
METHOD
Bring the stock to a simmer in a medium saucepan.  Turn on low to keep hot.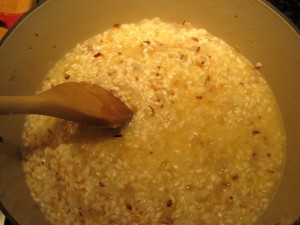 In a separate large heavy saucepan (I use my Le Creuset – http://www.lecreuset.com/en-us ) heat the olive oil and butter over medium heat.  Add the shallots and garlic and cook for about 4 minutes, or until soft.  Add the rice and stir, cooking for about a minute or so.  Add the thyme and white wine, stirring and cooking until it is just about evaporated.  Add some of the stock, about a ladle full at a time, and cook until the liquid is almost all absorbed.  Then add more stock and continue this process until the rice is cooked and creamy… about 20 minutes, adding the stock as needed.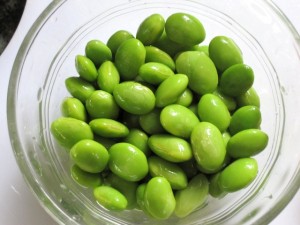 When the rice is just about done, add in the edamame, shrimp and parsley.  Stir.  It will only take a few minutes to cook the shrimp through.  Then add in the truffle oil, parmesan cheese, and freshly ground pepper.  Combine thoroughly and taste before adding salt.
Enjoy!

Print entire post