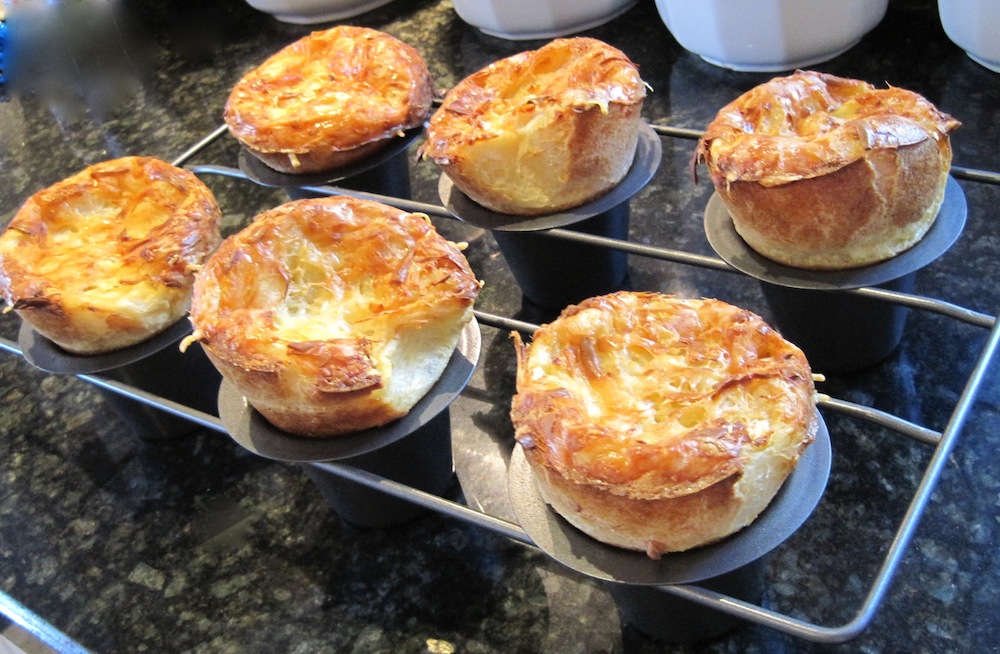 I absolutely love popovers. They are so simple to make. I don't know why I don't make these more often?  This recipe is so easy and it never fails!
I used Gruyere cheese for these, but you could use a different type of cheese. I think next time I'm going to use a white truffle cheese I buy at Trader Joe's… that I'm semi-addicted to.

You will need a special pan to ensure your popovers are airy and light with crispy golden domes.  I have a Chicago 6-cup popover pan and I love it!
This recipe makes approximately 12 popovers.
INGREDIENTS
4 cups milk
8 eggs
4 cups flour
1 ½ Tablespoon salt
2 ½ cups Gruyere cheese, grated
METHOD
Place the popover pan in the oven and turn it on to 350 degrees, allowing both the pan and oven to preheat.
In a medium saucepan warm the milk over low heat (you just want it warm, not hot).
Meanwhile, whisk the eggs and then slowly whisk in the warm milk, a little at a time, making sure not to cook the eggs.  Set aside.
Next sift the flour and the salt together and slowly add this to your egg mixture.  Combine gently until smooth.
Remove your popover pan from the oven.  I sprayed mine with a nonstick vegetable spray, but if you want to use butter or shortening, carefully grease the hot pan.
Fill each popover cup about three-fourths of the way (not any more because they will be "popping over" anyway). Place about 3 tablespoons of cheese on the top of each popover.
Bake for about 45 minutes in the 350 degree oven.  I rotated the pan about halfway through to be sure that they were evenly browned.  Once they are done remove from the oven and remove them from the pan right away.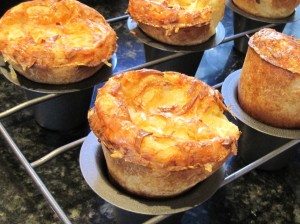 Popovers are best served immediately.
If the popovers are not going to be eaten right away, you should prick them as soon as they come out of the oven to prevent them from deflating and becoming soggy.
Allow to cool completely before storing.
Enjoy!

Print entire post