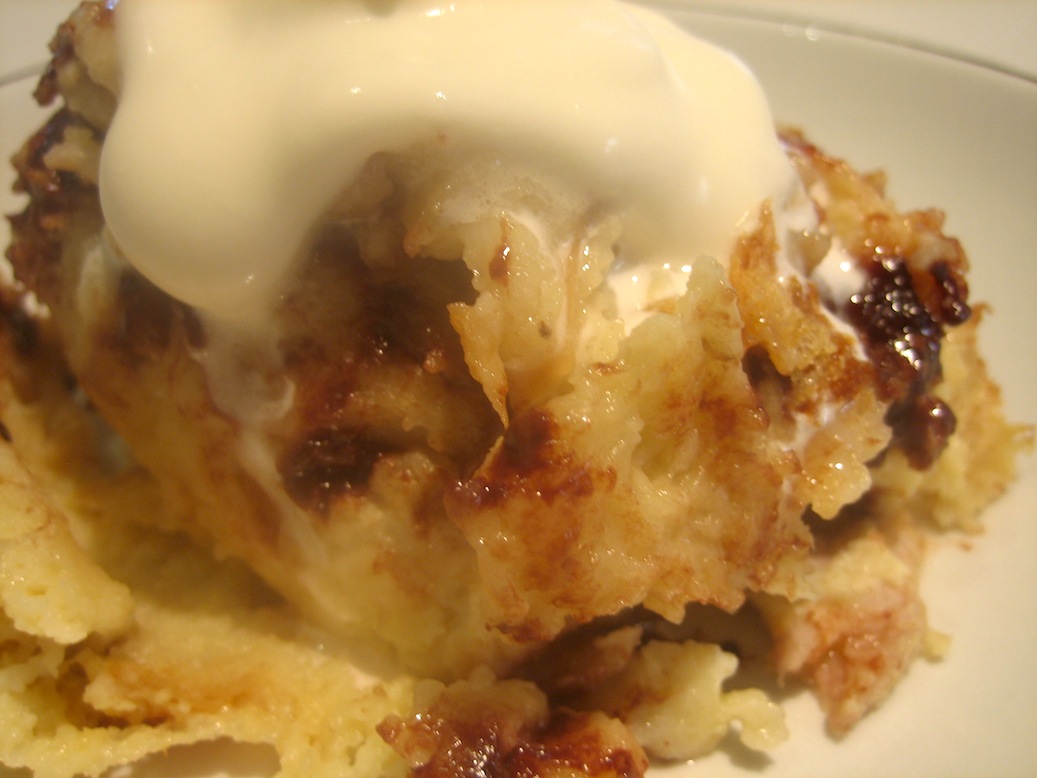 After dinner last night we were in the mood for something sweet and comforting.  As we were standing in the kitchen talking about what we wanted to eat the aging bananas were sitting in the hanging basket waiting.  I had bought a loaf of Challah bread that morning and knew it would make a perfect banana bread pudding with those bananas.
I sprung into action.  It took about 10 minutes to prepare and about 45 minutes to bake.  The house was full of the delicious aroma as we waited.  Here's a picture with fresh whipped cream on top.  The banana bread pudding is still warm, as you can see by the melting whipped cream.

This recipe does not have to be exact. You can change it up in so many different ways! You can use a different bread, such as brioche or a cinnamon raisin bread.  You don't have to use bananas, you can use many other fruits; such as blueberries, apples, or peaches to name a few, or no fruit at all. Milk doesn't have to be the liquid of choice.  Instead you could use evaporated milk, soy milk, almond milk, half and half, heavy cream, or a combination of those items, depending upon how rich you want it.  You don't have to use chocolate chips, I just like the flavor of banana with chocolate.  If you'd like you could use cinnamon chips and raisins together (no banana)… that sounds really good.
Another flavor that I really enjoy with banana and chocolate is almond.  So, instead of using vanilla extract, try the almond extract instead.  It really brings out a different rich flavor.
Anyway, here's the recipe that I made.  Be creative and see what deliciousness you can come up with!
Banana Bread Pudding
INGREDIENTS
1 cup milk
1/4 cup sugar
3 eggs
1 Tablespoon pure Vanilla extract
About 6 cups Challah bread, cubed
3 ripe bananas, diced
a handful (or two) of chocolate chips
METHOD
Preheat the oven to 350 degrees.  Butter a baking dish and set aside.
In a large bowl add your milk, sugar, eggs, and vanilla.  Whisk until completely combined.  To this add your cubed bread.  Mix lightly until all bread is wet and allow it to absorb the liquid for a minute or two.
Meanwhile, dice your bananas.  Add the bananas and chocolate chips into the bowl.  Mix and pour into the prepared baking dish.  Loosely cover with foil and bake for about 30  minutes.  Remove the foil and continue to bake until puffed and golden on top.
Enjoy with whipped cream or vanilla ice cream, or both!

Print entire post