At our house the people aren't the only ones who eat well.  We have 2 French Bulldogs, Sophie (13 yrs) and Duke (2 yrs), who are the smallest members of our family.  Yes, I will admit that they are very spoiled… especially the youngest one.
We have always given them "dog" treats, bones, etc. and have tried the gamet of dog foods that are offered today.  No matter what type of food, whether it was a canned premium type or raw freeze-dried, they all had one thing in common… they caused flatulence.  When I say that I mean the type that makes everyone get up and leave the room.  It was horrible and something had to be done.
Combined with this dilemma was the fact that our little guy, Duke, was a very picky eater.  He had turned into quite the little culinary snob.  I don't know how this happened, but if you were to ask anyone in the household they would point the finger at me. It's just so hard to resist him when he wants a little bit of white truffle cheese. Ok, guilty as charged.
So, I set about trying to solve this gaseous problem.  After lots of experimentation with many real food combinations I have come up with what we now lovingly call "Sophie Loaf".  It's a meat loaf that I prepare for them.  Both Sophie and Duke love it, and it has totally solved the gas issue.  It takes a few days, and soon there will be no stinky gas. Then we realized exactly what treats also gave them gas, and have cut down on those, as well.
It's cost effective, too.  The price to prepare "Sophie Loaf" is much less than store-bought dog foods.  Plus, you have the peace of mind knowing exactly what is in their food.
I'm sharing this today because I know that gas is a very, very common problem with not just Frenchies, but with lots of breeds of dogs.  Make some today and your dog will thank you, and so will your family and guests!
Sophie Loaf
This recipe does not have to be exact. I often change the vegetables, switch the ground turkey to chicken, use sweet potatoes instead of white or do other subtle variations, just so they don't get bored with the food. It's really a matter of what your pet likes and what works for you. I did try string beans once, but Duke refused to eat that!
INGREDIENTS
5 lbs. of lean ground turkey
1 large egg
½ cup to ¾ cup of oatmeal, uncooked
2 whole potatoes, baked and mashed, with the peel
1 ½ cups of mixed veggies (I use the frozen bag that has corn, carrots and peas)
METHOD
Preheat oven to 350 degrees.
Bake the potatoes and allow to cool. I microwave mine, it's fast and easy.
Allow the frozen vegetables to thaw (or cook and cool them) and place them in the food processor and mix until smooth.
In a large bowl mix the ground turkey with the egg and oatmeal. Add the vegetables and mix until everything is incorporated.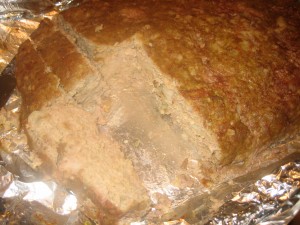 Line a baking sheet with foil and spray with cooking oil (I use olive oil spray). Place the meatloaf on the baking sheet and form into a flat meatloaf, as pictured. Bake until done, approximately 45 minutes.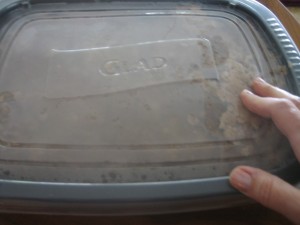 Once it has cooled, I place the cooked meatloaf into a large Glad storage container and store in the refrigerator (I now shape mine to fit perfectly).

Print entire post