I love these cookies! The pecans give them a delicate flavor. The cookies themselves aren't too sweet. As you can see by the pictures I filled some with lemon curd. Yum!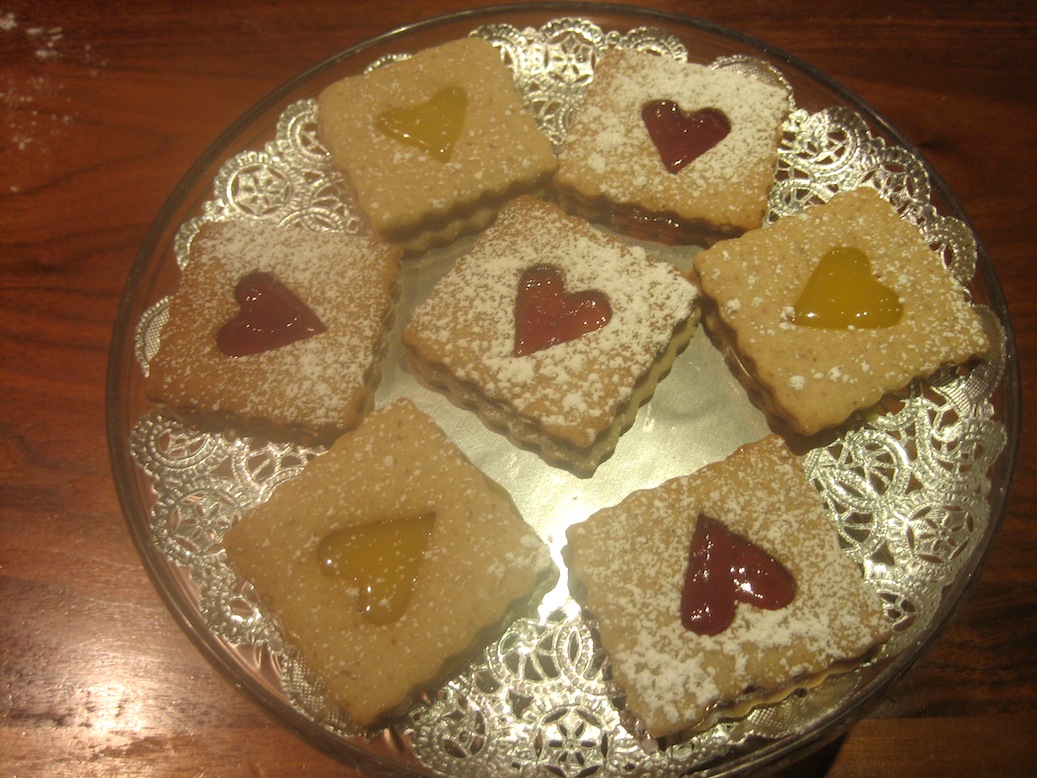 INGREDIENTS
2 cups of Flour (a little more for rolling out the dough)
1/2 tsp Baking Powder
3/4 cup of Pecans, toasted
2 Tbsp Confectioners Sugar (extra needed for dusting)
1/8 tsp Salt
1/8 tsp Cinnamon
1/2 cup of Unsalted Butter, cut into small pieces
1/4 cup Sugar
1 tsp Pure Vanilla Extract
1 Egg
1/2 cup of Strawberry Jam
METHOD
Sift the flour and baking powder together into a small bowl and set aside.
Put the pecans, confectioners sugar, salt and cinnamon into the food processor.  
Once it has been ground fine, place into a large bowl (or the bowl of your electric mixer) and add the butter and sugar.  
Mix on medium until totally incorporated.  
Add the egg and the vanilla and continue to mix.  
Reduce the speed to low and add the flour and baking powder.  
Mix just until combined.
Refrigerate the dough for about an hour, or until well chilled.
While your dough is chilling you can prepare the jam.
Heat the strawberry jam in a small saucepan on medium heat for about 5 minutes, or until is has thickened.  
Place in bowl and set aside to cool.
Preheat the oven to 375.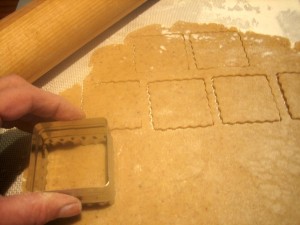 Take half of the dough out of the refrigerator and roll out on a lightly floured surface to about 1/8 inch thick.  Use a 2-inch fluted cutter to cut out the squares.  Then cut out the centers of half of your squares with a 1/2-inch heart cutter.  Continue until you have rolled out all the dough and have an equal amount of tops and bottoms for your cookies.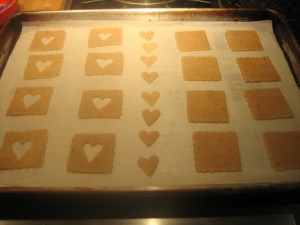 Place the cookies on parchment paper lined baking sheets about an inch apart.  Bake for about 8 minutes, or until lightly golden. Place cookies on a rack to cool.
Spread the cooled jam on the bottoms of all the cookies.  Sprinkle the cut out cookie tops with confectioners sugar and place on top of the jam covered bottoms.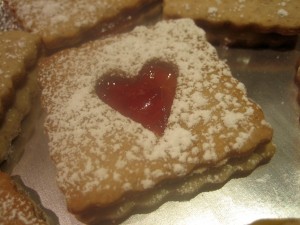 Note:  You can store these cookies at room temperature in an airtight container for up to two days… or longer in the refrigerator.
Enjoy!

Print entire post