I love to make hearty soups that are actually the main course.  This lentil and sausage soup is extremely delicious and satisfying.  I never measure (except when baking), so you don't have to follow the directions exactly, you can mix it up a bit.  Mine is hardly ever the same twice.  You could also add some red or green peppers, corn, potatoes and/or chopped spinach. I also sometimes "bump" up the flavor with some truffle salt.  Takes it to another level.  It's about what you like… but here's how I made mine today!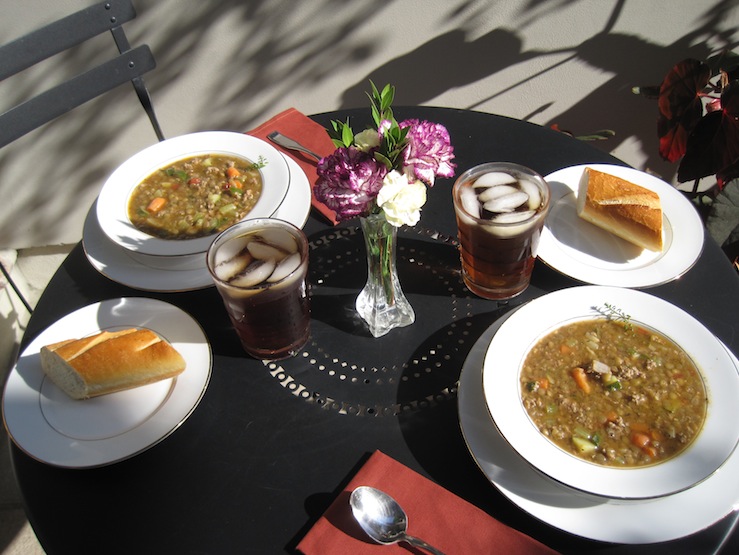 INGREDIENTS
Lentils, you can use canned or dry, but ultimately you want to end up with 4 cups of cooked lentils
3 Italian turkey sausages (I like spicy, but you can use the mild/sweet ones)
1/2 onion, chopped
2 celery stalks, chopped in 1″ pieces
1/2 bulb of fennel, chopped in 1″ pieces
6 cups of stock (chicken, beef or vegetable)
4 carrots, peeled and chopped in 1″ to 2″ pieces
2 zucchinis, cut in half lengthwise and then cut in 1″ pieces
2 chopped tomatoes
fresh herbs: a little parsley, oregano, thyme and rosemary (if you don't have fresh you can use dried herbs, or the Italian herb combination)
2 garlic cloves, finely chopped
salt (or some truffle salt) and fresh ground pepper, to taste
METHOD
Place about 2 tablespoons of olive oil in a large saucepan, that is large enough to ultimately hold all of the soup.  Squeeze the sausage out of the casings and saute, along with the onion, celery and fennel.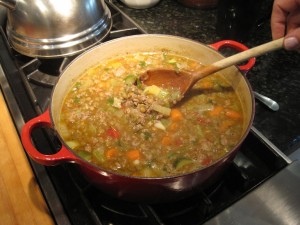 When the sausage is cooked add your stock and the cooked lentils.  Add the carrots, zucchini, tomatoes, herbs and garlic and cook over medium until the veggies are soft, about 15 minutes.  Add more stock if needed.
Taste the soup and season with salt and pepper to your liking.  Serve with crusty bread.  Yummy!

Print entire post