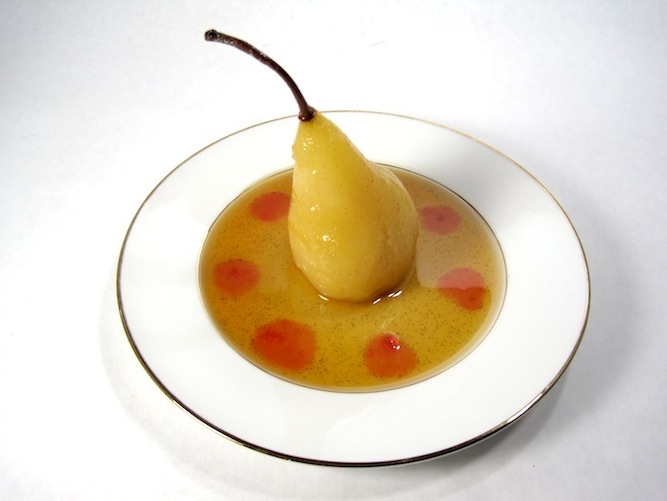 I made the red dot design on the plate by taking a little bit of the syrup and mixing it with a teaspoon of cherry jam (making sure not to get any cherry pieces in it). Once it was smooth I used a small spoon to place the drops around the plate.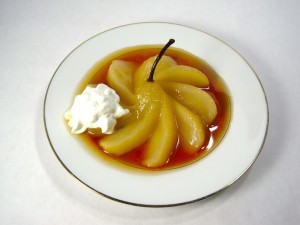 INGREDIENTS
1 (750 ml) bottle of white wine
(I used Chardonnay, but just about any wine will do)
1 cup water
3/4 cup of sugar
4 whole cloves
4 whole allspice
1 whole vanilla bean, split and scraped
4 firm pears (Anjou, Bartlett, or Bosc) peeled leaving the stem intact
METHOD
Place the white wine, water, sugar, spices and vanilla bean (including the pulp) into a medium saucepan. Combine and bring to a boil over medium-high heat.
Peel the pears leaving the stems intact. Core the pears from the bottom.
Decrease the heat to medium-low and carefully place the pears into the liquid. Cover and gently cook for 30 minutes or until the pears are tender but not falling apart. Remove the pears and place upright on a serving dish. If you are serving the pears in an hour or so you can leave them out, if not place them in the refrigerator. I personally like my pears served room temperature.
Next we want to reduce that delicious syrup, which will take about 20 minutes on medium-high heat. Keep a watchful eye, to be sure that you don't brown it. Once reduced, pour syrup through a strainer into a heatproof container. Place in the refrigerator and allow to cool for about an hour.
To serve: Place each pear upright on a serving plate. Spoon the sauce over the pears and serve with some whipped cream, if desired.

Print entire post