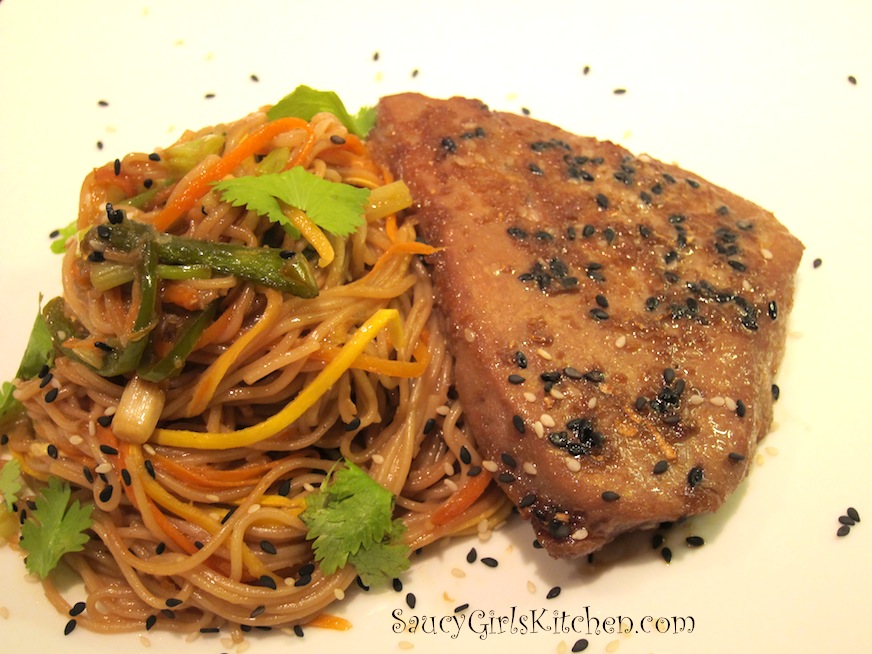 Delicious and healthy, now that's a combo I can embrace. The flavors of ginger and soy sauce, combined with the freshness of lime make this tuna incredible!
Perfect as an entree, as pictured above with Soba Noodles & julienned vegetables. Or serve it up with a side of wasabi mashed potatoes or rice, and a small cucumber salad. Thinly sliced and this tuna becomes a great appetizer, served with some wasabi and pickled ginger – love it!
INGREDIENTS
4 Tuna Steaks, about 8 oz. each
1/4 cup Sesame Oil
3 Tbsp Soy Sauce
1 cup Sesame Seeds, toasted (I like to use black & white sesame seeds)
2 Tbsp Vegetable Oil
For Wasabi Ginger Soy Sauce:
1 Tbsp Wasabi Powder
3 Tbsp Soy Sauce
1/4 cup Chicken Stock
1/4 cup Mirin or Sugar
1/4 cup fresh Lime Juice
1 Tbsp Sesame oil
1 tsp Ginger, minced
METHOD
In a large bowl combine the sesame oil with the soy sauce.
Place the tuna in the marinade for 10 minutes.
Meanwhile, you can prepare the Wasabi Ginger Soy Sauce by adding all the ingredients into a small saucepan.
Bring to a simmer over medium heat.
Remove from the heat, pour into a small bowl and set aside.
Now back to the tuna… place the sesame seeds on some waxed paper or a baking sheet. Remove tuna steaks from the marinade and dry lightly. Coat each piece of tuna with the seame seeds.
Lightly oil a frying pan with vegetable oil (or spray).
Heat pan for about 3 minutes over high heat.
Carefully place the tuna into the pan.
Sear for 2 to 4 minutes on each side, depending upon the desired doneness you prefer and the thickness of the tuna steaks.
To serve as an appetizer:
Get a large serving plate (preferably chilled in advance) and place some shredded lettuce on the plate, if desired.
Thinly slice the tuna against the grain.
Place the tuna on the plate, overlapping to create a nice effect.
Drizzle the sauce over the tuna and serve with wasabi and pickled ginger.

Print entire post