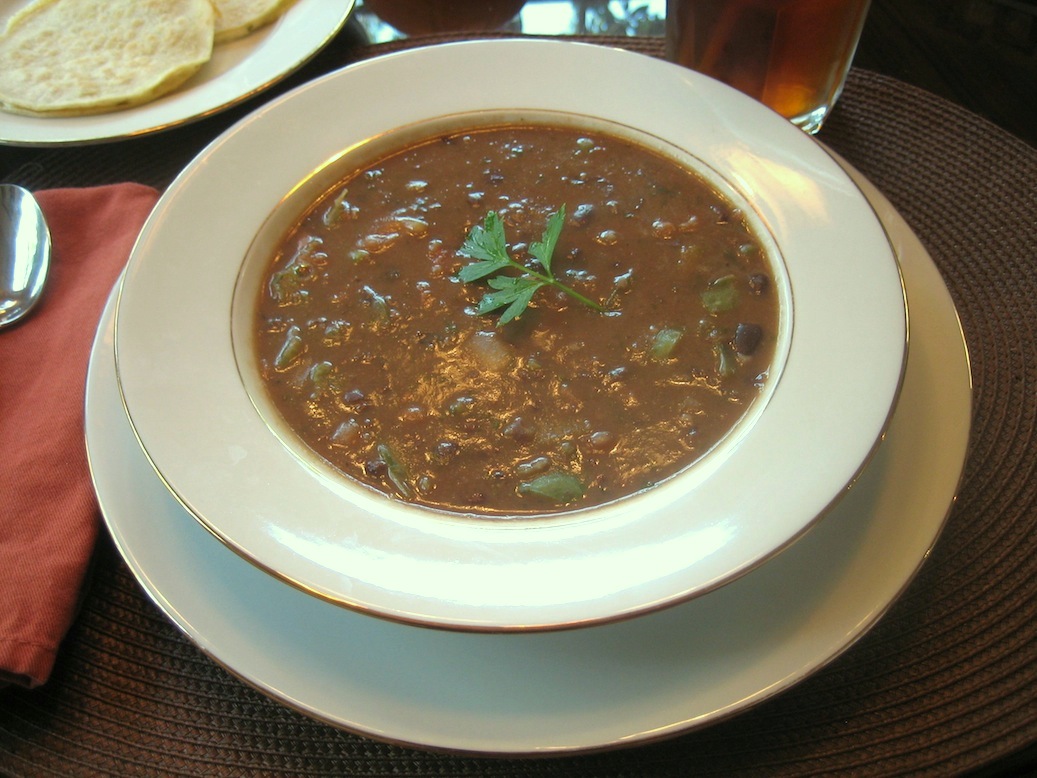 This soup is delicious and a favorite at our house! It's hearty enough to be a meal, especially served up with some warm tortillas. One of my husband's favorite things is when I put a ladleful of soup in the bottom of a deep bowl, then place a poached egg on top, and cover the egg with more soup. Then I top the soup with shredded cheddar cheese and a little dollap of sour cream (or Greek Yogurt) in the center. Yummy!!
INGREDIENTS
3 Tablespoons olive oil
1 white or yellow onion, chopped fine
2 stalks of celery, chopped fine
2 jalapenos, chopped fine
1 green pepper, chopped fine
3 large tomatoes, chopped fine (or you may use canned)
1 teaspoon cumin powder
3 cloves of garlic, diced
3 cups of chicken broth (vegetable broth may be used)
1 ear of fresh corn (or you can use 8 oz. can of corn)
1 large can of black beans (about 2 lbs.)
1 8 oz. can of refried black beans (or pinto if you don't have black)
1 Tablespoon fresh parsley, chopped
3 Tablespoons fresh cilantro, chopped
salt and pepper, to taste
sour cream, to top
poached egg, if desired
METHOD
In a large saucepan heat the olive oil. Add the onion, celery, and peppers. Cook over medium heat until tender, about 5 minutes.
Add tomatoes, cumin, garlic and chicken broth. Bring to a boil, then lower heat and allow to simmer for a few minutes. Add the corn, beans, parsley and cilantro. Mix well and allow to continue to simmer on medium low for about 20 minutes or so.
Taste the soup. Season with salt and pepper, to taste. If soup seems to thick you can add a little water.
The great thing about this soup is you can make variations. You can add different types of beans, you can add some carrots, red or yellow peppers, etc.
I like to serve my soup with a poached egg in the middle. I put a little of the soup into the bowl, put the poached egg in, and then cover it completely with the soup. I then top it with a dollap of sour cream (or fat free plain yogurt) and a little fresh cilantro on top. Great served with cornbread or a cheesy quesadilla. Yum!

Print entire post