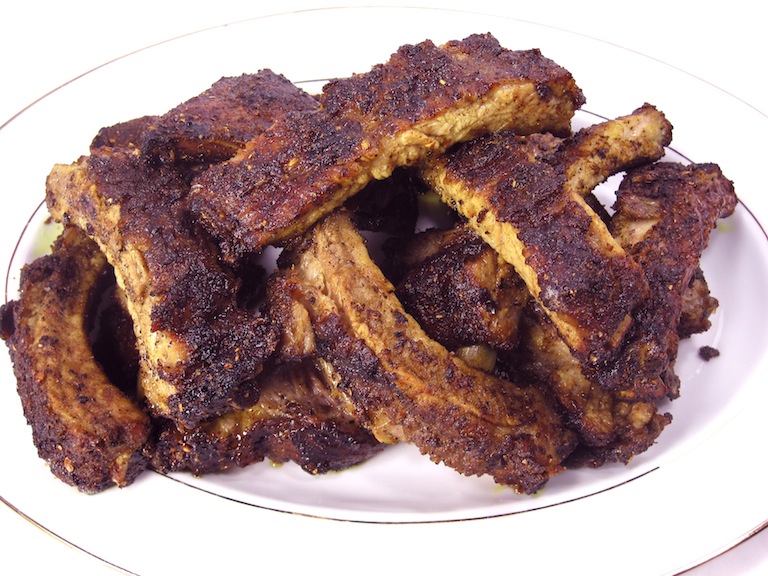 INGREDIENTS
For sauce:
1 cup coarsely chopped onion
2 large cloves of garlic, coarsely chopped
1 1/2 cups ketchup
1/4 cup molasses (not blackstrap)
1 1/2 Tablespoons cider vinegar
1 Tablespoon light brown sugar
2 teaspoons salt
2 teaspoons black pepper
For ribs:
4 lb baby back ribs (4 racks)
METHOD
Preheat oven to 350°F. Line a 17 x 12-inch shallow baking pan with foil.
Stir together all sauce ingredients in a 2-quart heavy saucepan and bring to a boil over moderate heat. Reduce heat and simmer, covered, 15 minutes. Transfer sauce to a food processor and carefully purée until smooth.
Coat both sides of ribs with sauce. Arrange ribs with the meat side up in pan (it's ok to overlap if you must). Cover tightly with foil and bake ribs 1 hour. Remove foil and bake ribs uncovered for 1 more hour.
Enjoy!
Cooks' notes:
– Sauce can be made ahead of time and stored in refrigerator, covered.
-You can marinate the ribs in cool sauce for up to 24 hours and then bake as directed.

Print entire post